(Part two of our series on the Véloroute des Bleuets in Quebec)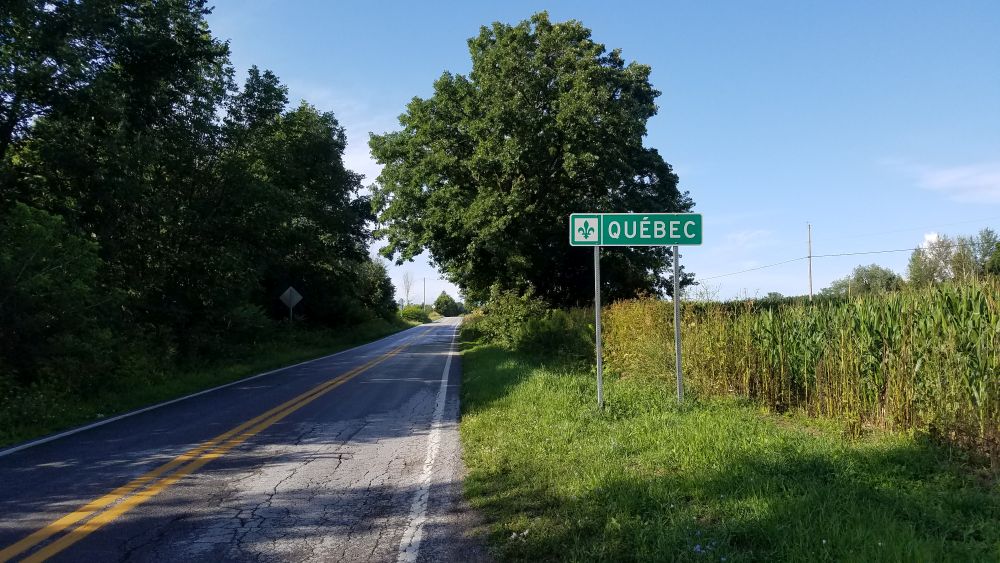 If you read our last blog article about cycling the Véloroute des Bleuets you will have gotten a sense of just how complicated it is to get to this beautiful cycling route from New York City. If you are relying on a flight to get you (and your bike) to Montreal, everything falls apart if that flight is cancelled or substantially delayed. So why even bother with the flight, when you can just drive to Burlington, Vermont and do a relaxing 2-day ride by biking to Montreal, with about 50 miles of riding each day?  It's the perfect "warm-up" ride for doing the Véloroute des Bleuets because it's relatively flat. Plus, the time it takes you to drive to Burlington from NYC pretty much cancels out the time it takes you to pack up your bike in a box, get to the airport, wait for your flight, etc. Why put yourself through this stress when (if you have the time) you can just do a great 2-day bike ride?
Burlington is the perfect place to begin a biking to Montreal. As Vermont's largest city, there are many services, restaurants and places to stay before you start your ride. I was able to rent a pick-up truck at a bargain price from a local Enterprise Rent-a-Car near me and I paid $50 extra to drop it off at their location in South Burlington. When I arrived, it took me 10 minutes to return the truck, set up my bike, use the bathroom….and then I was off!  Burlington's waterfront bike path was only a half-mile away!
If you enjoy urban waterfront bike paths, Burlington's 14-mile long Island Line Trail is one of the best. Well maintained with clear signage, it takes you right along the shore of Lake Champlain, in between the water and the tracks for the Vermont Railway. Restaurants, stores and bike shops line the bike path on the city-side as you approach downtown. Then, after passing through beautiful parkland (with a swimming beach right on the trail) the trail crosses the Winooski River and reaches a long, spectacular causeway that goes out into the center of Lake Champlain, taking  you to South Hero Island. But before you get to the island, you have to cross a 200-foot gap in the causeway. Fortunately a local non-profit called Local Motion operates a bike ferry to close this gap. It's smooth sailing to South Hero Island.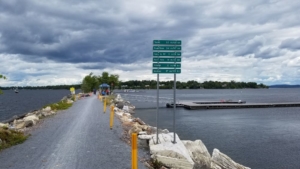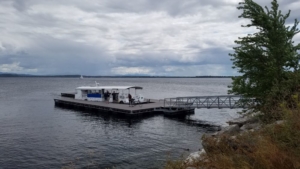 Once you are off the causeway, it's back to road riding. But riding across South Hero Island and North Hero Island is fantastic, with scenic low-traffic back roads that you can enjoy. At some points you will need to ride on US Route 2, but that road isn't super busy or scary. The main concern at this point will be making sure you know where you are staying the night and know where you can get lunch and/or dinner. It's at least 32 miles to get from the end of the causeway to the Canadian border. Since stores, restaurants and accommodations are rather spread out, you will want to plan out where you will stay (and where you will eat beforehand).  One place that you will need to pass by (since the island is narrow in this location and you can only ride on Route 2) is Hero's Welcome general store. They make great sandwiches. Stop here if it's lunchtime!
The border town of Alburg, Vermont is about halfway between Burlington and Montreal.  So if you are doing this ride over 2 days, you will need to decide if you want to spend the night in Canada or the USA. If you are looking for a B&B or an Inn, you can find a few of these on the Vermont side if you want to ride a little less than half the distance on the first day.  For a motel, your best bet is to cross over into New York (via ferry or bridge) where a motel is available in the border town of Rouses Point. There is also a hotel in the Quebec town of Blackpool, but it's next to a big highway.
If you are looking to camp, a great option is Sleepy Hollow Campground in Noyan, Quebec. Staying here allows you to go through a very quiet border crossing between Alburg and Noyan.  The roads on the Quebec side are absolutely delightful, with wide farm vistas leading down to the Richelieu River. It's about 5 miles from the border crossing to the campground. All of it on beautiful riding on roads with hardly any cars. 
The campground is a real gem – with its own beach right on the river and boats you can rent to go out on the water.  They have a restaurant that's open for breakfast, lunch and dinner, so you do not need to worry about where you will eat. However, the campground is cash only and you'll need to ride 2.5 miles (each way) to get to an ATM (and the nearest store if you need to buy anything).  But the ride into town is flat, easy, and goes over a beautiful bridge. 
No matter where you spend the night, the second day of biking to Montreal is almost as nice as the first. From the campground in Noyan, it's about 50 miles to downtown Montreal. (It's a little less from the hotels along the highway, a little more if you stayed the night in Vermont).  The terrain is mostly flat as you head through the farms and suburban areas of southern Quebec. And there are plenty of great bike paths you can take so that you don't have to ride with cars.  
The first bike path is a 16-mile long rail trail that is flat and straight between Lacolle and Sainte-Clothilde-de-Chateauguay. If you ride in the summer, the quiet nature of this trail allows it to be filled with grasshoppers (who jump out of your way as you ride through) and butterflies (who flutter past).  After the path it's a couple of miles on quiet farm roads, and then its back on another 6.5-mile bike path that runs alongside one of the major arterials into Montreal. The trail also runs alongside a huge wind-farm.
After this bike path, you only have to ride about 4 miles on another quiet road, once again next to farms, until you get to the suburban municipality of Saint-Constant and the bike paths start up again.  It is here that you'll get a real appreciation for just how much focus has been put on bicycle paths in the Montreal metro area, particularly with new residential developments. It's 11 miles to Montreal…and it's bike paths the whole way.  The last few miles are the most spectacular as you ride along the Saint Lawrence River…and cross it on a bikes-only bridge that goes directly to Nun's Island, one of the smaller islands next to the larger Ile de Montreal. It's here that the City of Montreal's excellent bike route network begins, which can take you anywhere you want to go in the city. 
Montreal is a great destination for cyclists looking to ride around a city for a couple of days. In my case, it would just be a stop-over before catching a train the next morning to Chambord to access the Véloroute des Bleuets. So I stayed at the very bike-friendly Hostelling International Montreal which has a bike storage area and is only a few blocks away from Montreal's central train station. 
 Check out the first blog article in this series to learn more about getting to and riding the the Véloroute des Bleuets.
Check out the third article in this series to find out what happens next. 
https://gothambiketours.com/wp-content/uploads/Banner-Logo-300x60.png
0
0
Laura Willis
https://gothambiketours.com/wp-content/uploads/Banner-Logo-300x60.png
Laura Willis
2019-12-18 20:52:49
2020-06-15 16:52:04
Biking to Montreal from Burlington, Vermont – A Great 2-Day Ride!