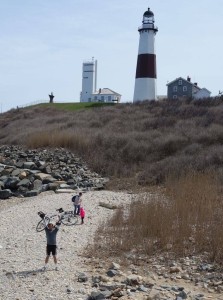 Have you ever wanted to do that one "big ride" to challenge yourself? Biking to Montauk from my apartment in Brooklyn was the first time I had ever dared to ride more than 100 miles in one day. It was 1998. I was only 23 years old. I had just finished college. I had started a new job…and I decided to train all summer to meet this goal.
I wanted to do this ride one-way…and take the LIRR back home when I was done.  Back then, you couldn't bring your bike on the LIRR Montauk branch before Labor Day. So I waited until the week after. I remember going to the Hagstrom Map Store on 43rd Street and 6th Avenue to buy all the maps I would need to plan my journey. The ride would be about 115 miles long…if I didn't  get lost. I spent a ton of time trying to figure out what roads to ride, how to do this, etc. But I couldn't wait! I had only been to Montauk as a kid with my parents. Now I was ready to go there on my own…on a bike!
Biking to Montauk exceeded my expectations. And when I saw that lighthouse at the end of the ride it blew me away. I went down to the rocky beach below the lighthouse and I saw about a dozen fisherman casting their lines out into the surf. One guy was holding a huge fish he had just caught. I wondered if his feeling of accomplishment was similar to mine. I had caught a huge prize of my own…riding to Montauk!
Since that first ride, I have ridden to Montauk many times. Each time I learned a little more. I discovered how to use the trains effectively to do different kinds of rides. I learned where to camp. Where to get a good dinner. And were the best scenery was.
Three years ago I decided to put all of this knowledge into the first bike tour we ever offered at Gotham Bicycle Tours: Our Montauk and Eastern Long Island bike tour. It's all the highlights of my many bike trips to Montauk condensed into a weekend that you can experience. Since not everyone wants to ride a hundred-plus miles, we have several different routes to choose from between 16 and 60 miles…each one designed to give you a feeling of accomplishment when you reach THE END!  And forget about pouring over paper maps!  We have all the routes figured out for you, and you can get turn-by-turn navigation from a GPS app on your smartphone.  Doing a bike overnight to Montauk and the Hamptons has gotten easier than ever!
https://gothambiketours.com/wp-content/uploads/Banner-Logo-300x60.png
0
0
Laura Willis
https://gothambiketours.com/wp-content/uploads/Banner-Logo-300x60.png
Laura Willis
2016-04-19 16:02:54
2020-06-15 17:13:34
Riding a bike to Montauk!