Empire State Trail Vacation Tours
New York City to Albany, Saratoga Springs and Lake George
See New York State by bicycle on the Empire State Trail!  We are the only bike tour company based in New York that runs tours like this. We are born and raised New Yorkers and we've been riding here all of our lives. We know New York better than anyone else!
2023 Tour Dates
Each tour is unique because of seasonal changes. Click the dates below to download tour itineraries and prices:
June 15-20 Summer escape: NYC to Saratoga Springs! SOLD OUT
August 17-22 Summer escape: NYC to Lake George! Still room, but sign up now!
October 12-17 NYC to Saratoga Springs FALL FOLIAGE!  It's the best! SOLD OUT
OPTIONS! Ride the full tour, or join us for just the days that work for you.
Each tour is unique and prices vary depending on the tour and which days you want to ride. 6-day tours start at $2,195 and 3-day tours start at $995. (Price is per person, double occupancy).
$500 deposit required for reservation.
As New York's "hometown" bike tour company, we offer the most knowledge and experience running bike tours in this region. And our tour offers an unprecedented amount of flexibility and options for our riders.  Choose the of days of each tour that work best for you.
A truly customized experience
Each Empire State Trail Vacation Tour runs up to 6 days, starting at $2,195 for the full 6-day package.  We depart from Battery Park at the tip of Manhattan and we arrive in Albany five days later. A sixth day takes you to either Saratoga Springs or Lake George (depends on tour). Tour participants can select any combination of days and the cost of the tour is prorated. And our partnerships with Metro-North Railroad and Amtrak will easily get you to the segments you want to ride. Or you can drive to the ride and park in one of our designated lots and be shuttled back to your car at the end of the tour. All bookings are administered by the team running the tour, which will ensure you get quality service with all of your options clearly explained.
The best food and hotels
Gotham Bicycle Tours has been running bike tours in the Hudson Valley since 2014 and our team has lived here all of our lives. We know this region better than anyone, and we have many longstanding partnerships to give you the best experience. Food and hotels are no exception. Each day begins with breakfast included and lunch is also included each day (except for one day where you have a tremendous number of options to explore on your own). The tour also includes group dinners on most days, all with superb food and drink, including a special dinner at the renowned Culinary Institute of America (not available on August tour). On the days without the group dinners we will offer recommendations to let you experience farm-to-table dining, great ethnic food, or fun activities, depending on your interests. Then each night, stay in a nice hotel. 
We also understand that not everyone is into group dinners or lunches, particularly with Covid-related concerns in mind.  So we also offer opt-out options for each meal that can be credited back to your tour cost. This lets you do your tour, your way. 
A great ride for all abilities
The overwhelming majority of this ride is on bike paths which are relatively flat and easy to navigate. On-street bike routes are used where bike paths are not available, and you'll be given GPS or paper maps to navigate the route at your own pace. Each day a guide will also be riding with whoever wants to go in a group, and a support vehicle is always nearby, carrying your luggage and setting up rest stops. Everyone feels safe and supported and nobody is left behind.  
See the itinerary below for descriptions of each day.  
Day 1 - NYC to Yonkers
24 Miles, relatively flat. Bike paths and city streets. All paved surfaces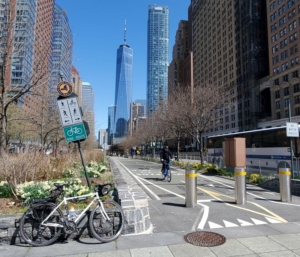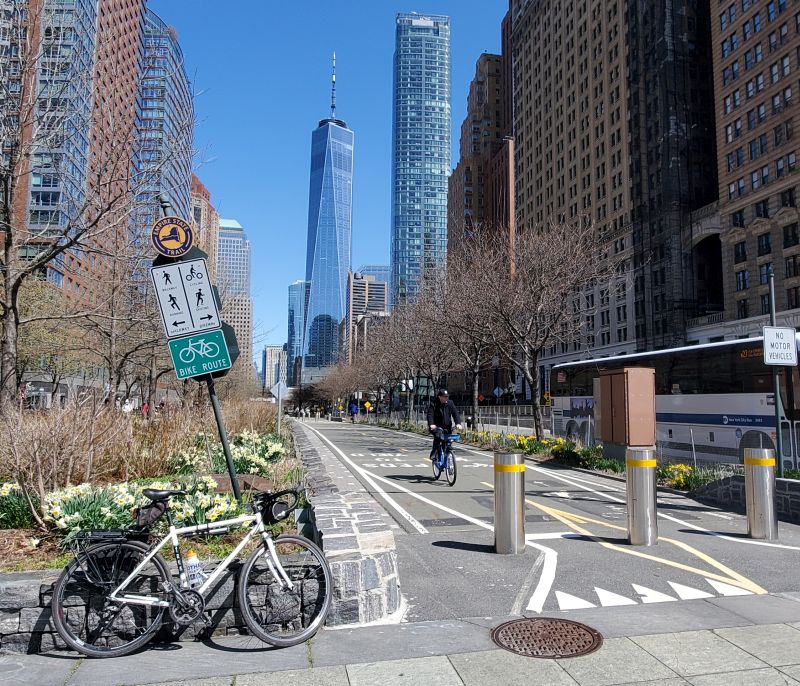 Much of the Empire State Trail in NYC is along the Hudson River Greenway in Manhattan where it begins at Battery Park City and ends at Dyckman Street. After that, it is a 4-mile jumble of busy city streets before you get to the final stretch of bike path. Lukas Herbert, the owner of Gotham Bicycle Tours, will lead this day of riding to give the group a more personalized tour. Lukas is a licensed NYC sightseeing guide (NYC DCA License # 2062201) and has 20 years of experience working in urban planning in both NYC and the Hudson Valley and can answer any questions about the places you will be riding through.
After experiencing the sights and sounds of the city, we'll have a picnic lunch featuring the best Dominican food the city has to offer before we head back onto the bike path up to Yonkers where you can check in to your hotel. Yonkers is famous for some of the best Italian food outside of Italy itself. Join us for a group pizza dinner, cooked in a brick oven that exceeds the quality you'll find in Manhattan. Or opt-out and do dinner on your own. An inexpensive Uber ride gives you access to countless great restaurants.
Day 2 - Lower Hudson Valley
Day 3 - Appalachian Crossing
Day 4 - Catskill Splendor