Empire State Trail Vacation Tour
NYC to Lake George – Special Weekend Packages Available
Do an epic ride from Manhattan to Lake George, August 17-22!
Our 2023 tour dates have all been sold out except for our August tour.
This tour is perfect for riders who are interested in riding all 6 days, or a smaller 2-, 3-, 4- or 5-day segment of the trail.  This is a small group tour and we are based locally, which gives us the ability to offer a variety of options to our riders.
Click this link to download the itinerary showing the different combinations you can do. The itinerary also contains route descriptions, elevations, and pricing.
Then contact Lukas at 917-748-1119 or lukas@gothambiketours.com and he will answer all questions and set up your tour package.
***Weekend Special***
In appreciation to our local customers, we are offering a "weekend special" for Saturday August 19 and Sunday August 20.  Two days of riding with an overnight stay $595 per person (or $495 per person if you come with someone else and share a room)
This ride features great food, nice hotels, and is a great ride for all abilities.
The overwhelming majority of this ride is on bike paths which are relatively flat and easy to navigate. On-street bike routes are used where bike paths are not available, and you'll be given GPS or paper maps to navigate the route at your own pace. Each day a guide will also be riding with whoever wants to go in a group, and a support vehicle is always nearby, carrying your luggage and setting up rest stops. Everyone feels safe and supported and nobody is left behind.
See the itinerary below for descriptions of each day.
Day 1 - NYC to Yonkers
24 Miles, relatively flat. Bike paths and city streets. All paved surfaces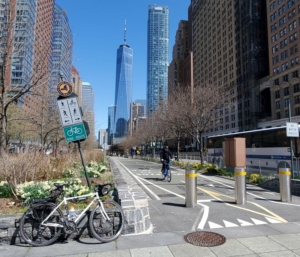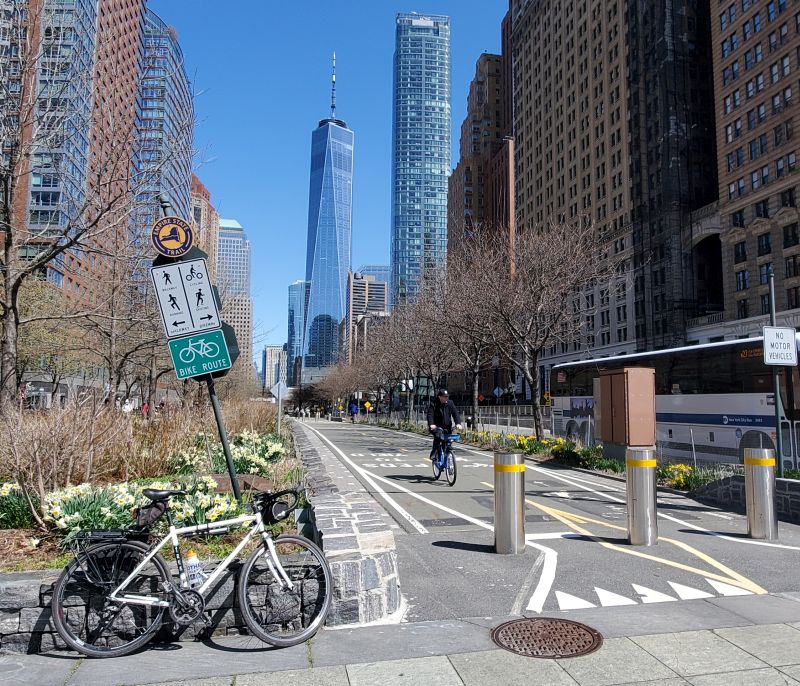 Much of the Empire State Trail in NYC is along the Hudson River Greenway in Manhattan where it begins at Battery Park City and ends at Dyckman Street. After that, it is a 4-mile jumble of busy city streets before you get to the final stretch of bike path. Lukas Herbert, the owner of Gotham Bicycle Tours, will lead this day of riding to give the group a more personalized tour. Lukas is a licensed NYC sightseeing guide (NYC DCA License # 2062201) and has 20 years of experience working in urban planning in both NYC and the Hudson Valley and can answer any questions about the places you will be riding through.
After experiencing the sights and sounds of the city, we'll have a picnic lunch featuring the best Dominican food the city has to offer before we head back onto the bike path up to Yonkers where you can check in to your hotel. Yonkers is famous for some of the best Italian food outside of Italy itself. Join us for a group pizza dinner, cooked in a brick oven that exceeds the quality you'll find in Manhattan. Or opt-out and do dinner on your own. An inexpensive Uber ride gives you access to countless great restaurants.
Day 2 - Lower Hudson Valley
Day 3 - Appalachian Crossing
Day 4 - Catskill Splendor