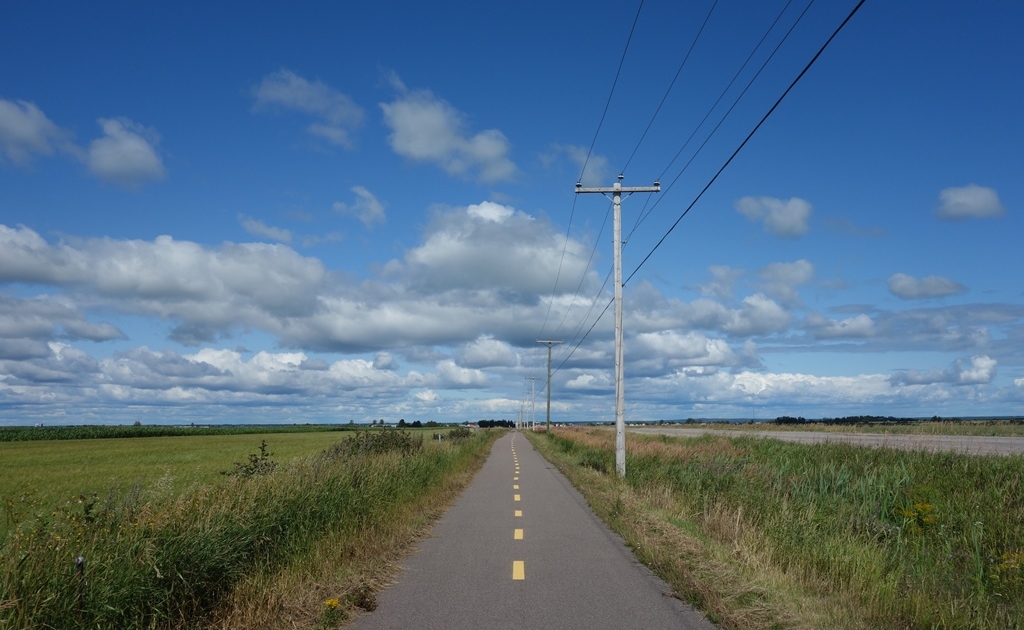 If you have been following along with the first and second article in this four-part series, you already know that a great bicycle adventure awaits on the Véloroute des Bleuets…but getting there can be complicated. But at this point in our story I am already in Montreal, ready to take an 8 hour train ride to Chambord, which is known as the "gateway to Lac Saint-Jean". When I arrived there, the plan was to spend 3 days riding around Lac Saint-Jean, and then 3 more days riding the Véloroute du Fjord du Saguenay to get to another train which would take me to Quebec City. 
(If you want to follow along on a map, click here to download official guidebook and follow along on the map on page 2)
Despite being  long, the train ride is pretty straightforward. The ticket was also inexpensive, costing me only about $60 Canadian to transport both myself and my bicycle, thanks to generous government subsidies to get more tourists to the Lac Saint-Jean and Saguenay region. 
While the train was scheduled to leave Montreal at 8:15, the VIA Rail Canada agents I spoke with on the phone prior to the trip told me to get there at least an hour early because my bike would need to be loaded into the baggage car, and could potentially need to be put in a box if the train was carrying a lot of freight.  Not wanting to mess around, I got up early and rode my bike to Montreal's central train station to check in. There were about 7 other cyclists who showed up the same time as me, which was encouraging. All of us were told to remove the paniers and other bags from our bikes, which we had to carry onto the train to our seat.  Then we handed the bikes to the agent at the baggage desk and – fingers crossed – our bikes would be on the train. 
This whole process took about 20 minutes, so I still had 40 minutes left to get breakfast. You will want to do this before you get on the train.  You will also want to go to a store (perhaps the day before) and buy yourself lunch. The food on the train looked pretty awful. Plus, when the train pulled into Chambord that afternoon at 4:30, I wanted to be ready to ride. I didn't want to have to stop first and eat. 
When the train departs, you realize that this will be an unhurried affair.  First, they made us line up the train gate when the departure announcement was made.  Then we all stood there for at least 20 minutes, holding our bags for apparently no reason. Finally, they sent us down to the train, which was actually two trains linked together.  Each train had an engine, a luggage car and a passenger coach. I found out that about halfway through the ride, they would separate the train, sending the other half to the remote town of Senneterre, while my half would go to Jonquière.
The train conductor and staff were super friendly, which was good, since you would see these people all day. The conductor made his way up and down the car chatting with everyone, getting to know us as we settled in for the long trip. The train ride was fantastic, but long. After passing through suburban Montreal and surrounding farmland, we were soon in the wilderness, making stops at teeny-tiny stations. Some places were logging towns. Others were remote wilderness resorts with few roads, where the train was the primary access. To my surprise, people were constantly getting on and off of the train at these little whistle stops, with all kinds of baggage, including canoes and cases of beer, all of which were loaded into the baggage car with the bikes. 
Finally, the train made it to the other side of the wilderness and Chambord was the first stop, right near the lake.  Most of the other cyclists got off here, and we all reassembled our bikes right at the station. Right in the parking lot was a directional sign for the Véloroute des Bleuets. So I just followed the signs, and I was on my way.
When I got on the bike, I had no idea what to expect or what I would see.  So I was amazed at how clearly the Véloroute was marked. Rolling through Chambord, there were signs and lane markings everywhere. And as I left town, I soon found myself on a beautiful bike path in between the road and Lac Saint-Jean. I had no idea it was going to be this nice!
With only a few hours of daylight, after consulting the comprehensive guide of the route,  I decided I would ride to Val-Jalbert, which was described as a "ghost town" historic site that also has camping and a restaurant. The detailed maps in the printed route guide made it very easy to plan my afternoon (and the subsequent days).  The route around the lake has mileposts noting kilometers running clockwise (Chambord is at KM 102). The route is also color coded, with green meaning bike paths and yellow meaning on-road riding. Val-Jalbert was only 9 KM away, so I could do a small warm-up ride, lay out my tent, have a nice dinner and check out some local history. 
However, once I arrived at Val-Jalbert,I realized there were a couple of key details the guide left out. While the campground was beautiful with a pool and great facilities, Val-Jalbert turned out to be more of a super-commerciallized, touristy outdoor museum than a ghost town. Their restaurant turned out to be this involved affair that required reservations, often paired with a room booking. Anything related to the historic site was locked behind gates (which closed at 6), requiring you to pay a $30 admission.  This was clearly something that you would go to and spend an entire day (and night) at and it's completely useless for people just passing through at the end of the day. It would have been nice to know this beforehand, since I could have potentially planned more time to visit it. And of course, now I had no place to eat dinner. Thankfully I overindulged on paté on the train and I wasn't super hungry.  So I bought 2 pre-packaged egg salad sandwiches out of the campground store, went to the pool, saw a rainbow, and called it a night. Still not so bad, I guess.
The next morning, I availed myself of the campground's hiking trail and I hiked up the Ouiatchouan River, on the opposite bank from the historic park.  A massive waterfall awaited me at the end. At least I got to see something! After eating an energy bar (for lack of other options) I rode 7 KM on a glorious bike path to Roberval, the next big town along the lake. This town had a wide range of services, so getting a late breakfast was easy. At that point, given the nice weather, I decided to try to make it to Albanel, 67 KM away. Albanel had a municipal campground and a restaurant. It was also at the junction of a secondary bike route, called Au Fil des Rivières, which was a loop promising waterfalls and blueberry fields. If I stayed in Albanel, depending on how I was feeling, I could ride this loop in the evening, or early the next day. 
Once I started riding, I took my time, taking in sweeping views of both farms and lake. As the guidebook promised, I passed by a farm that was in the middle of harvesting raspberries. I got a huge basket for only $6. They must have been picked that day, they were so fresh! Further on down the road, the guidebook alerted me to an organic, artisanal fromagerie, Bouchard Artisian Bio  – a farm owned by the same family for five generations. After tasting all of the amazing cheddar, I bought a brick of it along with a bag curds. All I needed was some bread from a store and this would be lunch and snacks all day.
By late afternoon, I had reached Albanel. Since it was my first full day (and the campground had a pool!) I decided to save the Au Fil des Rivières side loop for the next day and instead enjoy the sunset with a beer after unwinding in the pool. In Albanel, very few people spoke English, so I had to rely on my high-school French from decades ago. So after arranging for my campsite in my horrible French, I headed over to the local blueberry museum, which is a must-see if you are ever in Albanel. They sell slushies made with local blueberries, which are unbelievably refreshing after a day of riding. 
Albanel only had one restaurant, a casse-croûte (a type of restaurant featuring poutines, hamburgers, etc.) that also had pizza. So the dining choices were limited. Fortunately, the town also had a supermarket, so I was able to buy food for the next day as well.  At this point, I was finding it advantageous to keep stocking my panniers with fresh, yet durable, foods that I could snack on all day, and that could also serve as a meal if I needed it to. So this meant buying a lot of breads, local cheeses, cheese curds and fruit. And speaking of fruit…sometimes I could just pick it myself. 
I got an early start and resolved to do the the 44 km Au Fil des Rivières side loop before pressing on along the rest of the Véloroute des Bleuets.  Being a loop, I left my camping gear and a pannier at my campsite while I did the ride to make my bike lighter. I cruised down a road that was long and straight, yet it rolled up and down with a topography that changed. I reached the super small town of Girardville where there was a general store that sold pastries baked on the premises. I could see the huge baking room behind the register. I bought a huge raspberry pastry packed in a styrofoam tray wrapped in shrink wrap. I bought coffee out of a machine and I had a great mid-ride breakfast. I stashed the remaining 80% of the pastry in a pannier and took off for the ride back to Albanel, on an off-road path that went through endless blueberry fields and along a series of waterfalls. It was here that I stopped several times for snacks of blueberries that I simply picked myself.
Back in Albanel it was time to get serious about the day's ride. Because I had reserved a waterfront campsite at Pointe-Taillon National Park  I needed to ride 55 km to Péribonka to catch a ferry to the park. The last ferry was at 6 p.m. and, if I missed it, it would add 30 more km of riding for the day.  Since I had already ridden 44 km, I was motivated!
Having studied the maps in the guide, and checking what was ahead in each town by using Google Maps, I was able to determine that I could get everything I needed in Péribonka for dinner and a camping breakfast. So I got on my way, riding through more beautiful landscapes, on a combination of clearly signed, bike paths and on-street bike routes.  However, I began to notice that in some of the larger towns, the wayfinding breaks down due to missing (or confusing) signs or pavement markings that have eroded away. As a result, I occasionally found myself riding on high-traffic roads that were stressful to ride since I had strayed from the route. It was frustrating since on my 6-day trip, this kind of situation happened about once per day.
I trucked on to Péribonka fearful that if I was on the last ferry of the day, it could be full, since the guidebook stated it only had room for 12 bikes.  I had seen a lot of cyclists riding that day, so who knows how many more people are taking this ferry? Péribonka had a nice restaurant facing the lake. When I arrived there, I checked with the ferry operator to see what my options were. The 5 p.m. ferry was waiting….with nobody on it.  The 6 p.m. was likely to be just as empty. So I had an hour to eat dinner and shop for supplies at the only store in town, a convenience store near the ferry dock. 
At 6, I was the lone passenger on the ferry. So I chatted with the captain as he brought me across. I was now in Pointe-Taillon National Park, which is not really a national park. (Quebec calls its provincial parks "national parks"). But it didn't matter – the place was amazing! I continued along a bike path that went through forests, wetlands and dunes. I scanned the horizon for wildlife until the path went next to the lake with a series of beautiful sand beaches along it.  I found one overlooked by a bench, with a safe accessway down to the water. So I stopped, changed into a suit and went for a swim as the sun began to sink in the sky. It was so refreshing after more than 100 km of riding!
Back on the bike, I rode the final few km to my campsite. The site was wooded, but with a view of the lake and easy lake access.  After setting up my tent, I went for another swim as the sun set. I watched a huge orange moon rise over the lake, and then I went to bed.
The next morning, I took down my tent, left my bags at the site and rode around the park's bike paths to see more of the natural areas. I was not disappointed by a wildlife sighting of two large birds running across the path. It was worth the extra riding to see. I also checked out some of the other campsites in the park. Some of them were right on the sand by the water. Others were larger, for bigger groups. But all were the same in the sense that you could only bike or hike to all of these sites.  No cars allowed!
On my final day around Lac Saint-Jean, I would need to ride at least 86 km to Métabetchouan-Lac-à-la-Croix. That was a sizable town that had restaurants and motels. If I wanted to go further, I could press on 18 km more to Hébertville where I could camp. I would decide when I got there. 
The ride that day was busy, since I passed through the City of Alma, the largest municipality along the lake, positioned on an island between the Grande-Décharge River and the Petite-Décharge River.  It was here that I began to see (and ride across) a number of hydroelectric dams that were associated with the rivers, both of which confluenced into the Saguenay River, the main river of the region which flowed between Lac Saint-Jean and the Saint Lawrence River.
I was able to skip the main part of the City (and shave off a few miles) by taking another delightful bike ferry across the river. Once again I was the only passenger.  After Alma, it was back riding along the picturesque lake all the way to Métabetchouan-Lac-à-la-Croix where I needed to decide my final plans for the day. But good fortune allowed me to consider this decision on a sandy beach with changing rooms, a restaurant and live music. I changed, took a relaxing swim, and listened to the music while I contemplated that I had enough daylight to push on to Hébertville.  I would leave the shores of Lac Saint-Jean at this point and head west along the Horst de Kénogami bike route. This would be a 72 km long, mostly on-road bike route that would no longer be flat. Instead I would go over some more serious hills on my way to the regional capital of Saguenay where I would experience the Fjord du Saguenay.  I'll tell you all about this in the fourth and final installment of this series. 
https://gothambiketours.com/wp-content/uploads/Banner-Logo-300x60.png
0
0
Laura Willis
https://gothambiketours.com/wp-content/uploads/Banner-Logo-300x60.png
Laura Willis
2020-02-04 21:05:59
2023-04-06 18:43:39
Cycling the Véloroute des Bleuets in Québec – Part Three: Riding Around Lac Saint-Jean