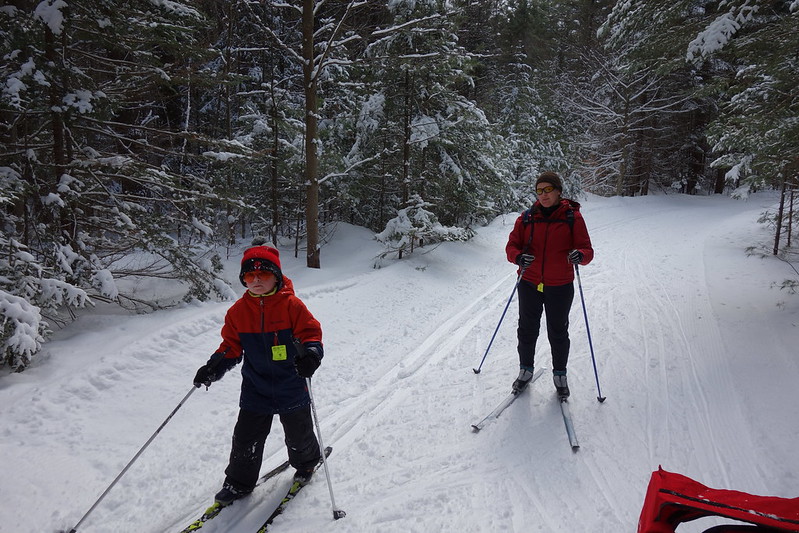 There's nothing quite like getting outside on cross country skis after a fresh snowfall. When you can't get out for a bike tour, cross country skiing is a great form of exercise, since you work both your upper and lower body at the same time. Plus it's beautiful to ski through a winter wonderland where snow is sticking to tree branches. Unlike downhill skiing, cross country skiing can perhaps best be described as a faster version of hiking where you glide along a trail using your own power to move. But of course those downhills are always a fun part of any day out. The New York area has many biking and hiking paths that offer a wide range of cross country skiing experiences from easy to difficult. There are also a few paths that follow train lines that allow you to ski one way and take the train back to where you started.
In most cases, to ski any of these trails you will need to have your own cross country skis. While this may seem like a major purchase, XC skis cost much less than downhill skis and they will last you many years. Major retailers that sell them include REI and L.L. Bean. There are also a few local retailers who sell them, including Pawling Cycle & Sport and Rock & Snow, both in the mid-Hudson Valley. Rock & Snow also offers rentals if you aren't ready to buy yet. 
Fahnestock Winter Park
Fahnestock Winter Park is perhaps the best choice for New Yorkers who are looking to try cross country skiing for the first time, or if you don't have equipment. Every winter, the beach area, campground, and hiking trails in Fahnstock State Park are transformed into a nordic skiing center whenever we get a big snowfall. Groomed trails range from easy to difficult and they have rental skis and lessons available. This is the closest nordic skiing center to NYC, so it can get a little crowded. But it is also super easy to get to since it is right off the Taconic State Parkway. You can also get here by public transit by taking the Metro-North Railroad to Cold Spring and then cabbing it over. 
Bronx River Pathway
If you are looking to just get out for a short ski trip, you can't beat the Bronx River Pathway in Westchester County for convenience. This bike path parallels the Metro-North Harlem Line and the Bronx River Parkway so it's easy to get to by car or train. Plus it offers the advantage of a one-way trip where you can use the train to get to a starting point and then ski back. The scenery is super nice as you pass through dense woods. The nicest segment for skiing is between Hartsdale and White Plains since it has a fair amount of up-and-down and there are no road crossings. If you are looking for a flatter section, try the area between Bronxville and Scarsdale.
Old Croton Aqueduct
With the leaves off the trees, you get a near constant view of the Hudson River and the Palisades from the Old Croton Aqueduct bike trail through Westchester's river towns. This trail is consistently flat and, since it parallels the Metro-North Hudson Line, it is also very easy to get to by train or do a one-way ski. You also pass through many town centers, which make it easy to stop for lunch. 
Rockefeller State Park Preserve
Another regional hot spot for cross country skiers is Rockefeller Preserve in between Pleasantville and Tarrytown in Westchester. This park features a large network of carriage trails that are primarily used by hikers and horseback riders. But after a snowfall it becomes a prime local destination for cross country skiers who ply its ungroomed trails. Probably one of the most scenic parks in our region, this is a great place to check out. You could also get here by train to Tarrytown or Pleasantville in combination with a cab ride. 
Ward Pound Ridge
Similar to Rockefeller Preserve, but further north, is Ward Pound Ridge Reservation, which also has a large network of carriage trails that are perfect for cross country skiing. The park isn't far from the Katonah Metro-North Station, which also has taxi service.
Westchester County Golf Courses
If skiing across open landscapes instead of wooded trails is more appealing to you, all six of Westchester County's golf courses are open to XC skiing and sledding. These golf courses offer a mix of terrain from steep hills to flat fairways, so there is something for every ability. Plus the parking lots are always plowed and you can even take Bee-Line buses to the Dunwoodie and Saxon Woods Golf Courses. (For Saxon Woods, your best bet is to take the bus to the pool parking area where you can access the parks hiking trails which are also good for skiing). 
High Point Cross Country Ski Center
Finally, if you are looking for another large nordic center, but you are willing to travel a little further, High Point Cross Country Ski Center in New Jersey is another place where ski rentals (and even snowmaking and night skiing!) is available. 
Resources to find out more
If you want more guidance in figuring out where to go or where the best conditions are, there are a couple of great resources for cross country skiers in our area. Check out Ski the Northeast which is a comprehensive website for skiers from the New York Metro area. Another great resource, particularly if you are interested in updates about ski conditions and other general information, is this fantastic email forum from the New York/North Jersey Chapter of the Appalachian Mountain Club. It's a great group to learn more about skiing and ask questions. 
https://gothambiketours.com/wp-content/uploads/Banner-Logo-300x60.png
0
0
Laura Willis
https://gothambiketours.com/wp-content/uploads/Banner-Logo-300x60.png
Laura Willis
2020-12-17 08:59:30
2020-12-17 08:59:30
New York Metro Area Bike Paths That Are Great for Cross Country Skiing