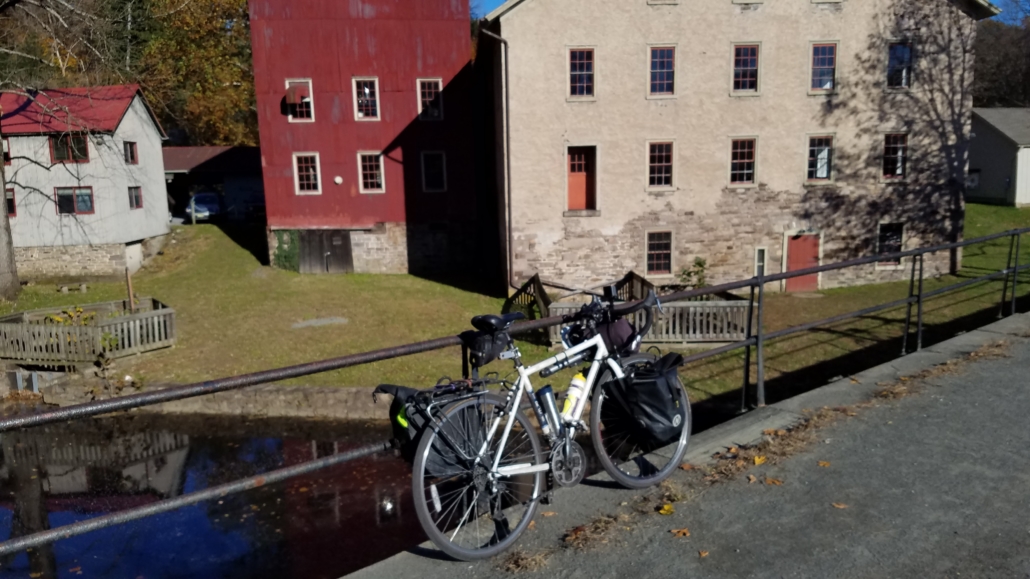 If you are looking for a great 3- to 5-day bike tour that is scenic and diverse…and will also give you bragging rights for biking across an entire state, look no further than New Jersey. New Jersey is often overlooked as a bicycle tourism destination since so much of New Jersey's image is negatively stereotyped with a car-focused identity: "Jersey barriers", the Turnpike, Paramus's shopping malls, etc. But the fact is, the New Jersey you can see from a bike is far different than the New Jersey you usually see from a car. New Jersey has an extensive bike trail network built on old canals and abandoned train lines that can take you long distances without seeing any cars. From a bike, you get a totally different version of the Garden State: one that has rolling Appalachian foothills, quaint mill towns, quiet streams, the scenic Delaware River, expansive farms, bright red cranberry bogs, fragrant pine forests, wineries, historic sites, and of course, beautiful beaches.  New Jersey also has a robust bike-friendly transit system that can help get you to or from your ride, or give you plenty of options if you need to bail out part way. It's a great bike tour that's close by and only takes a few days to ride. You'll also have a very favorable elevation change if you ride north to south, and the southern half of the ride is close to flat. Read on to find out more about what this ride is like and how to set it up.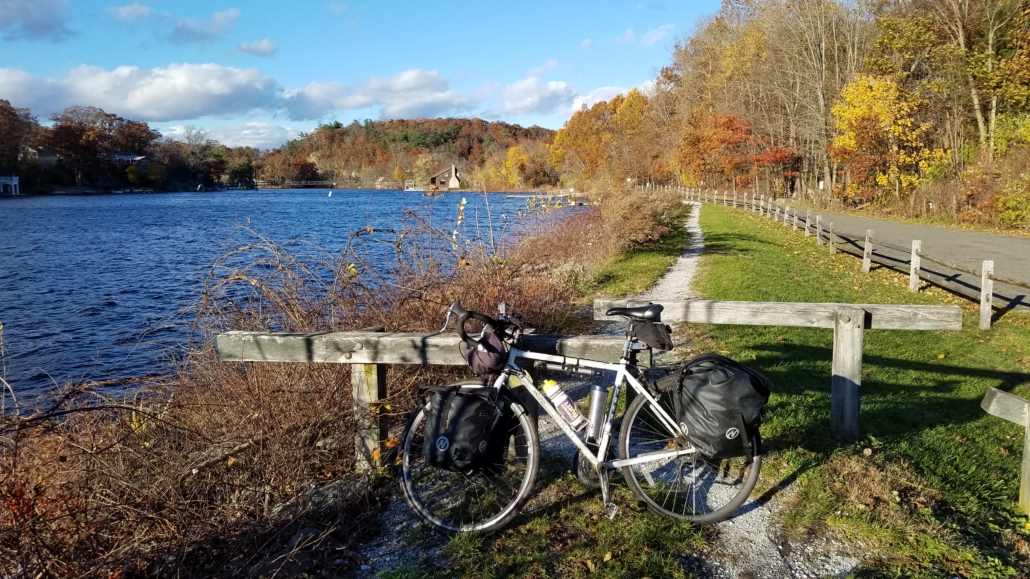 I did this ride by myself over four days in early November of 2018. It was a late foliage season, so I was hoping to get a run of four good weather days to do this trip and see the colors. I took a chance when I saw a 4-day forecast with temperatures staying around 45-55 degrees. But there was also a threat of rain. The weather turned out fine, with a mix of different conditions, but nothing awful.
Saturday – High Point and the Valleys Below
If you have the time, you can take the Metro-North Port Jervis line to the north end of this ride. I did not, so I did a one-way car rental and drove my bike to Port Jervis, NY. I drove out as early as I could on Saturday morning and I returned the car at an Avis location that was mainly a car repair garage (you better hope it's open…). It was raining, but the forecast said the rain would end in 2 hours.  Off in the distance, I could see the hills and High Point, with its obelisk jutting into the sky. The plan was to ride up there first and "tag the summit" before heading down the other side to the valleys below. While not a punishing grind, it was a steady ascent, and the beginning of a long day. But once I reached the windy top of High Point, the view was amazing. And it's all downhill from here, right?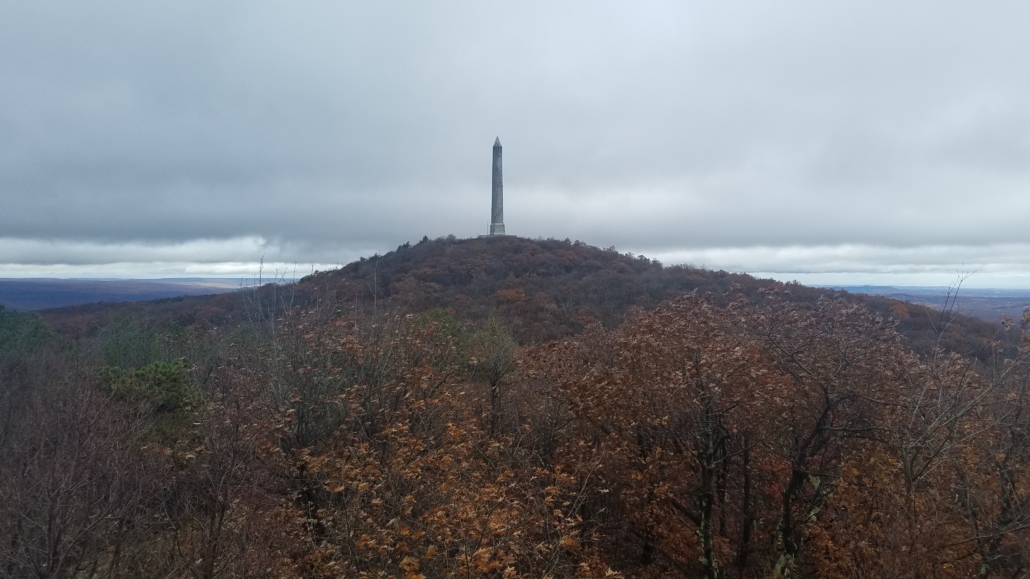 After descending High Point, I rode through beautiful farm valleys splashed with fall colors. The quaint downtown of Branchville was the starting point for the Sussex Branch Trail: a dirt-paved rail trail that goes through remote state preservation lands that are in the between old railroad towns.  It is here where the ride is the quietest, with no traffic noise as you follow along streams and pass by lakes. But that rain that happened earlier? Well that left many, many puddles that I had to ride through. This trail is beautiful, so the difficult conditions did not deter me. However, if it had been a sunny dry day, it would have been far better.
Fortunately, a warm bed in an outstanding B&B was waiting for me in beautiful Long Valley. Located next to a horse farm, but close enough to bike into town for dinner, The Neighbor House B&B was an ideal setting.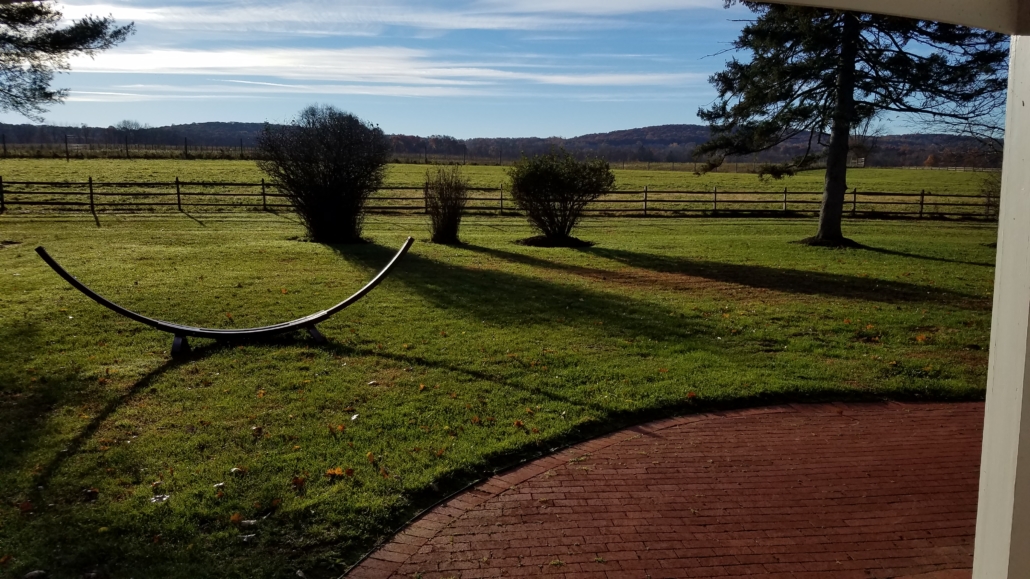 Sunday – Columbia Trail and the D&R Canal Trail
Sunday I woke to cold but sunny conditions. Rafi, the owner of the Neighbor House, got me going with a generous breakfast and lots of encouragement. Next it was off onto the Columbia Trail, another rail trail travelling between Morris and Hunterdon Counties. This trail went through steep wooded valleys bursting with fall color and gently roaring with the sounds of streams swelled by yesterday's rain. Paved with stone dust and cinder, the Columbia Trail is relatively smooth and a far easier ride than the Sussex Branch Trail yesterday. The trail ends in High Bridge, and from there I must ride on back roads to get to Frenchtown. The roads snake along brooks and streams which ultimately flow into the Delaware River. In Frenchtown, slow moving traffic ensured that I could take an entire lane width for myself as I made my way down to the waterfront, where lunch awaited at the Bridge Café . After that, it was 30 miles down the D&R Canal Trail, paralleling the Delaware River. It was a non-stop tunnel of color, with the river sparkling in between the trees as the sun positioned itself in the west. I would need to ride this section without stopping to ensure I made to my hotel before darkness fell.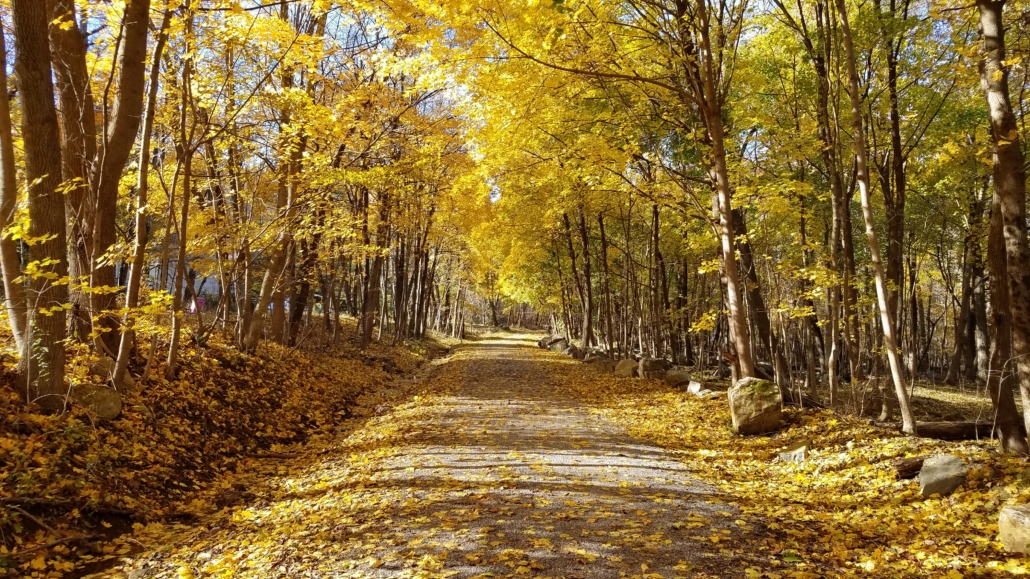 The quiet serenity of D&R Canal Trail continued, even as I passed through the only large city of my bike tour: Trenton. The path goes to the edge of downtown, where I jump off the trail and ride down State Street. It's 5 p.m. on a Sunday and I have the entire street to myself. I ride past the capitol and beyond to the next trail segment: a park  above a waterfront highway. This park, which celebrates the history of Trenton, leads to a ramp that brings you down to a bike path which runs next to the highway. But soon the path veers away and becomes another dirt path in a quiet forest area. The forest feels remote until you notice that you can still see the highway, and occasionally a light rail train flashes past. The path delivered me straight to the center of Bordentown, with its downtown clustered around a light rail station. It would be my jumping off point for the next day.
Monday – Farm roads and the quiet Pine Barrens
On Monday I headed east into the farm areas of Burlington County. The traffic was heavier because it was a Monday morning, but I managed to get an early start so I could get some miles in before rain overtook the area from the west.  About an hour in, the rain started falling, but was already wearing my rain gear, so I was ready. An hour more in the rain meant I was ready to stop for breakfast at a diner. New Jersey has the best diners, so they make great breakfast stops if you want to get a little riding in first. I glanced at the menu and asked myself if it was worth trying pork roll again. Pork roll is a product of Trenton, so it's mainly found in New Jersey and the immediate areas surrounding it. I skip it – it's raining out, do I really want heartburn too?
Back on the bike it rains as I ride through Fort Dix and into the Pine Barrens. The roads get very quiet and all the roads have bike lanes. Sometimes there are other paved roads that I can take through state forests. These roads have absolutely no cars.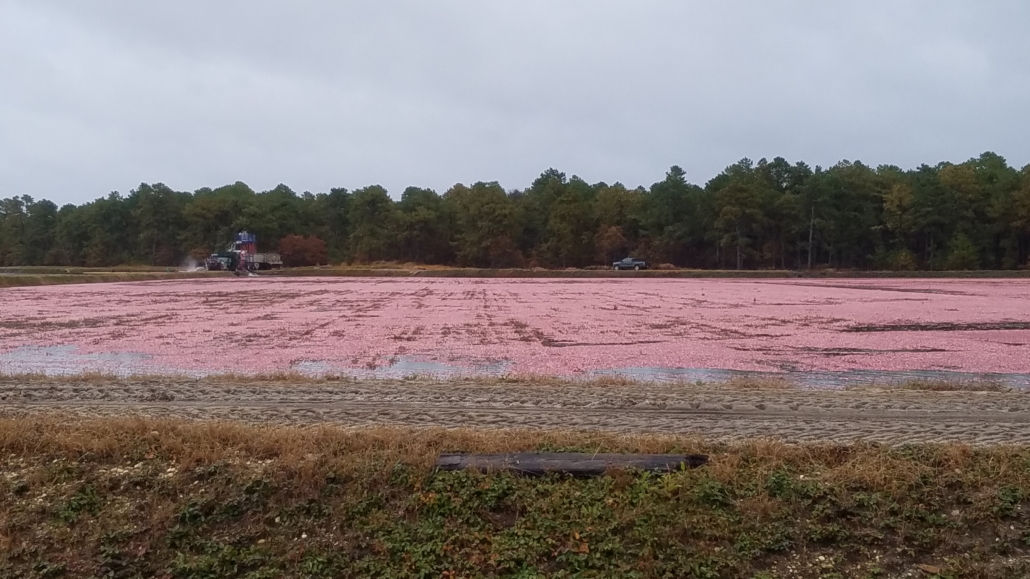 The rain falls more gently now as I pass the vibrantly red cranberry bogs that are being harvested for Thanksgiving. Red cranberries litter the road as I ride to Egg Harbor City where I check in at the Tuscan House of the Renault Winery. This winery is famous since it is the second oldest winery in the United States. To do this, it had to survive Prohibition. And for that, just look a few miles to the east to Atlantic City. Once ruled by mobsters during the Prohibition Era, the winery was part of their racket. Fans of Boardwalk Empire would find this winery interesting!
Getting my bike into my huge room was easy. The staff were helpful and the onsite restaurant was a great place to relax before going to bed.
Tuesday – Finishing at Cape May
The winery did not have any on-site breakfast available the day I was there, so I ate an energy bar and I took off as the sun was rising.  This would be my last day of riding, and the plan was to pick up a rental car in Cape May and drive it home. But it's a long drive and the car rental shop does not have late hours, so an early start was key. Thankfully, there was no rain as I ride south along Route 50, which has a generous shoulder, but also a good deal of traffic. Mays Landing, the County seat of Atlantic County, was a great place to stop for breakfast.  It was also Election Day, so the historic buildings were decked out in red-white-and-blue bunting. This time, I'm confident in my ability to finish my final day, so I order the pork roll.  But I eat only half of it. Too much sodium and fat!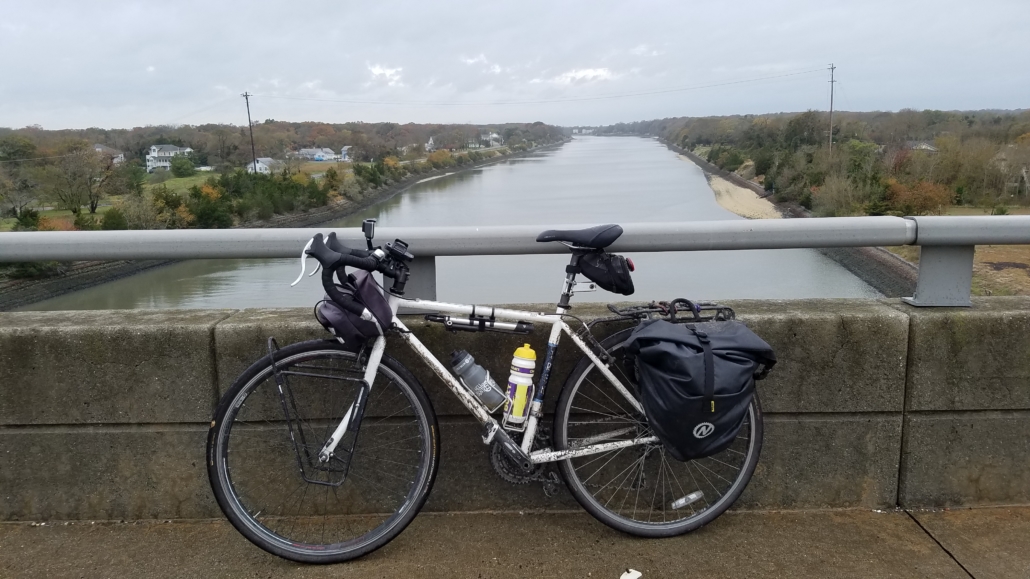 Back in the saddle, it's grey and foggy. Once I cross the bridge into Cape May County I am able to take advantage of a number of lower-traffic county roads as well as paved bike paths which traverse down the Cape May Peninsula. And even though I got a flat tire after breakfast, I am still on schedule, which allows me time to check out the Hawk Haven winery. The tasting is wonderful. It's a Tuesday and I have the place to myself and I am able to ask all about their wine. I decide to buy a case to bring home to share with my wife, so they hold the wine for me behind the counter. I'll come back for it later after I get my car.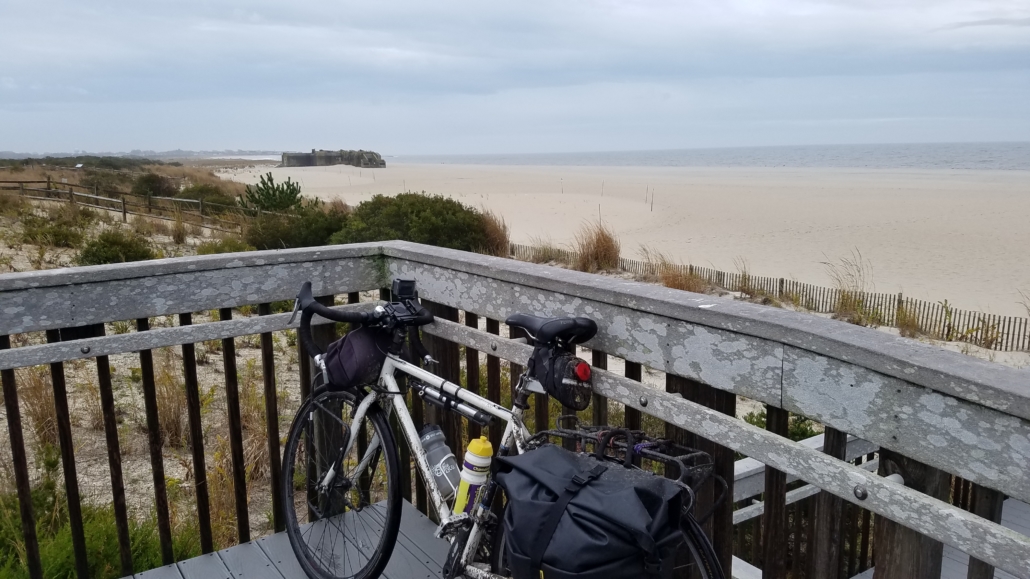 A few miles later and I am arriving at Cape May point. It's about 2 p.m. on a Tuesday, and I have the place all to myself. I do the obligatory picture of the lighthouse and then I walk to the beach and enjoy the sight and sound of the ocean as I breathe in the fresh salt air. I need to ride 6 miles back to pick up my rental car, so I decide to take a different route back along the shorefront. I then pick up my rental car, go pick up my wine and head back to NYC. And I even made it in time to vote!
Trip Costs
I did this trip myself, with no support. I arranged all of the accommodations myself, I spent about 20 hours planning the route and I drove myself to and from the ride using one-way rental cars. I spent about $730 for the entire four days and it was a lot of work to figure this out.
Gotham Bicycle Tours can arrange a tour for a small group that is cost-competitive with doing the ride on your own. For about $3300 (plus hotel expenses) we could provide a group of 4 people with a complete tour, with all lodging pre-arranged, a route specifically chosen to fit your group's interests and GPS navigation. You would also have full van support for the entire ride with rest stops arranged for you. You would always have access to a well-stocked cooler in the van. We can also help get you and your bikes to the start and end points of the ride, saving you lots of time. (This is key since we can drive you to the TOP of High Point to being your ride!) And you wouldn't need to spend an enormous amount of time planning out your route!
Contact me at Lukas@gothambiketours.com or call  917-748-1119 for ideas about planning your end-to-end tour of New Jersey.
https://gothambiketours.com/wp-content/uploads/Banner-Logo-300x60.png
0
0
Laura Willis
https://gothambiketours.com/wp-content/uploads/Banner-Logo-300x60.png
Laura Willis
2018-12-04 15:49:37
2018-12-04 15:55:03
Riding New Jersey from End-to-End: High Point to Cape May on a Bicycle