Empire State Trail Service
Ride New York's newest car-free bike path
Customize a great day out, starting at $50
2022 Tour Dates: April 9, May 14, June 4, August 27, September 24, October 29
ALL TOURS ARE OPERATED IN SMALL GROUP FORMAT USING COVID-19 PRECAUTIONS
Ride on New York's newest car-free bike path! Easy to get to by train from NYC with vehicle support, guides and break stops.  It's the longest state-wide bike path in the nation! Get out and enjoy this beautiful trail on your bike with our Empire Trail Service!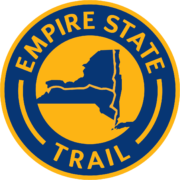 The Empire State Trail is an off-road bike path for its first 100 miles north of New York City, making it an ideal day trip for anyone from the New York Metro Area. The trail was entirely constructed along former railroad lines that once carried passengers and freight throughout the Hudson Valley. Now it's an amazingly scenic bike path that is relatively flat and takes you past beautiful lakes and farms, over breathtaking bridges and through quaint towns bursting with history.
Experience the trail at your own pace with the convenience and peace of mind of an organized tour
Our Empire Trail Service is designed for riders of all abilities to enjoy riding this scenic, remote, car-free bike path at your own pace while still having the convenience, support, safety and peace of mind that comes with an organized tour. Ride by yourself or with one of our guides and have access to break stops with refreshments. A support vehicle is available throughout the day where you can store your belongings while you ride. You can pack your own lunch or order a lunch ($13) and everything is available to you at the break stops. In addition, our staff is always available in the general area to help you with any mechanical breakdowns or to pick you up in the support vehicle if you cannot finish the ride.
See more with a one-way ride
Why spend half your day retracing what you already rode?  Experience more of the Empire State Trail with our official Metro-North Railroad Getaway package which offers discounted round-trip rail fare from Grand Central Terminal to and from the ride ($28.75) which starts and ends at different points. If you are coming from outside of the city, there is free parking where the ride starts and we offer a shuttle ($20 per person with bike) to get you back to your car at the end of the day.
A variety of options
Our Empire Trail Service starts at $50 for the Maybrook Line between Brewster and Poughkeepsie. You can add lunch, rail fare, shuttle services or rental bikes based on your preferences. We also offer GPS that will alert you to all points of interest that you ride past, including historical information that you can read at your convenience instead of stopping at every informational panel or kiosk that you pass.
If you are looking for a bigger ride, we offer "Morning Star" and "Sunset Limited" options as noted below that can be added on to the Maybrook Line service. Or try a completely different type of ride with our "Bar Car" tour or long haul services for private groups.
Maybrook Line Service
Ride 35 miles across the Hudson Valley beginning in Brewster and ending at the magnificent Walkway-Over-the-Hudson in Poughkeepsie. Our Maybrook Line Service is the "base tour" we operate on each tour day.
You can easily bring your bike aboard the train to enjoy this ride.  Take the Metro-North Harlem Line train to Brewster and meet us there where we will hook you up with energy bars, snacks and water before sending you on your way. The train you will need to take departs Grand Central at 10:10 a.m., Harlem-125th Street at 10:20 a.m. or Fordham at 10:28 a.m.  (Drivers can park for free at the Brewster train station). After completing the ride there is hourly train service back to Grand Central from Poughkeepsie. Head back when you are ready, perhaps taking in a waterfront restaurant for dinner before catching the train. Riders who parked in Brewster get shuttled back to their cars. Tour service ends at 6 p.m. which means you can make the 5:50 train back to the city or be back at your car in Brewster by 6:45.
PRICE: $50 base fare includes rest stops with refreshments and vehicle/guide service. Add additional services as needed or desired.
Morning Star Service
Start your ride closer to New York City for a longer ride on the Empire State Trail that joins with our Maybrook Line Service in the afternoon.  Add between 15 and 50 additional miles of riding in the morning on the southern portion of the Empire State Trail that goes past horse farms, over steep ravines and across beautiful lakes on breathtaking bridges. Perfect for more advanced riders who want to ride a little more. We can help you determine your ideal starting point based on how much you want to ride and  and we can shuttle  you to that starting point if you cannot reach it by train. When you get to the Maybrook Line portion of the trail, enjoy the same break stops as the rest of the group.
PRICE: $30 additional fare added to your package. Includes break stops and vehicle service.  Rental bikes are available for 15-mile segment only.
Sunset Limited Service
Ride into the sunset by adding up to 20 miles beyond the end of our Maybrook Line Service in Poughkeepsie. Vault over the Hudson River on the Walkway-Over-the-Hudson and continue along the Empire State Trail to New Paltz where you can take in the sun setting over the majestic Shawgunk Ridge. Choose from multiple route options that end at wineries, distilleries or great restaurants. Perfect for more advanced riders who want to ride a little more. We can help you determine your ideal ending point based on how much you want to ride and  and we can shuttle you back to the train at the end of the day.
PRICE: $45 additional fare added to your package. Includes break stops, vehicle service and a ride back to the train station in Poughkeepsie.
"Bar Car"
By appointment only – perfect for small groups of up to eight people. Enjoy the Empire State Trail as it goes through the Hudson Valley's wine country. Up to 5 food and wine stops are available.  Check out our Bar Car page for more details!
Empire Corridor and Adirondack Services
Do the long haul and ride across New York State! Arrange a private tour package for your group between any two points along the Empire Trail. New York to Buffalo or Canada and all points in between. Check our our Private Tours page for more information.
Click here for cancellation policies for all tours.
Thanks again for everything! It was a great experience. See you in the fall for a one day ride.