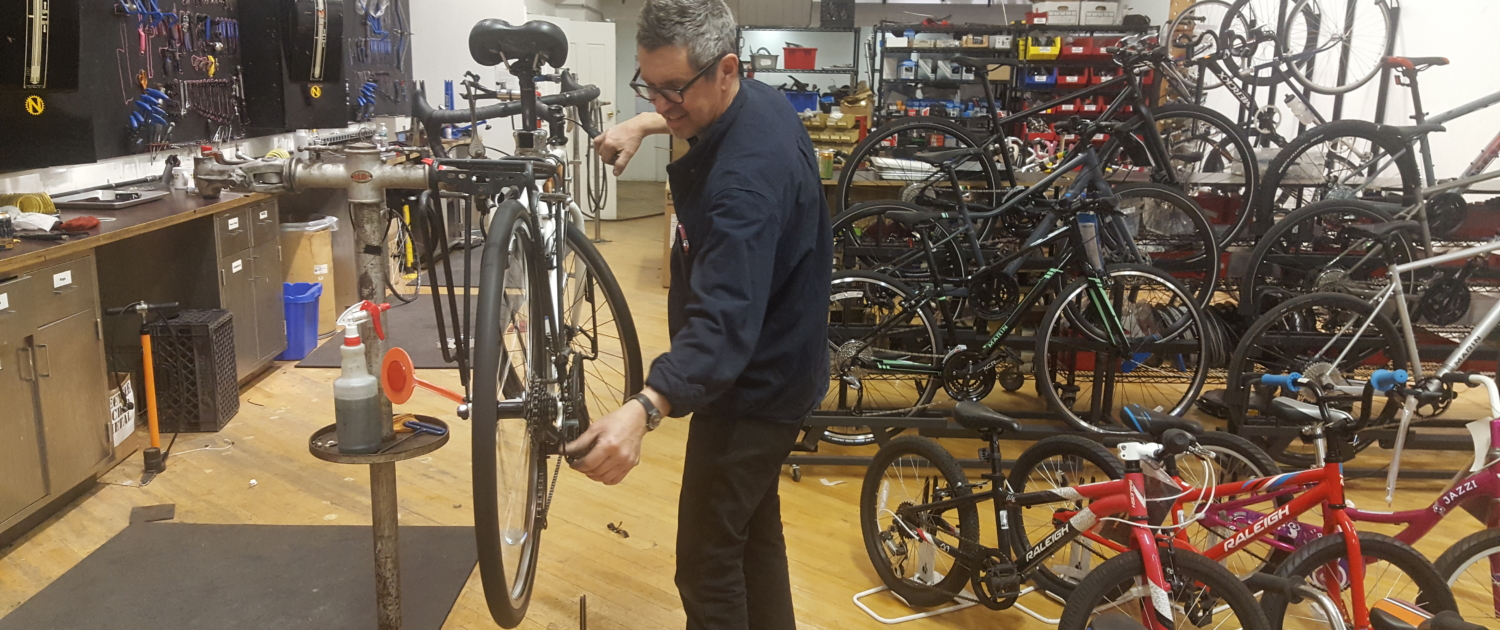 Now that the spring weather is finally here, if you are getting on your bike for the first few times, you may be noticing that your bike isn't working completely as it should. Yes, it is still getting you someplace, but maybe the way the gears switch isn't right. Or you have to really squeeze the brakes hard to get your bike to stop. Maybe your bike makes irritating noises while you ride it?  In all of these situations, you'll find that a good bike tune up will really go far in making your bike riding more enjoyable. So how to go about it?
Find a good bike shop.
The number of independently owned bicycle shops in NYC has, unfortunately, shrunk over the past 5 years. But these small shops can sometimes offer the best customer service, particularly when the person working on your bike is also the owner. So it's often worthwhile to go a little out of your way if you are looking for a real thorough tune-up or overhaul.  In my case, I had a bike that had gone 2 years without a major overhaul with many miles ridden. So I made the trip from the Bronx down to Greenpoint, Brooklyn to Kween Kargo, a shop that specializes in cargo bikes and wheelbuilding. I was lured by their Instagram posts that focused on the quality of their repair work, so I decided to give them a try. The level of service I received from Camille and Chris, the owners of the shop, was unparalleled, and the bike worked flawlessly when I picked it up. Chris also told me that he test-rode the bike to make sure it was perfect. And he said that I had 10 days to bring the bike back for further adjustments. So if it's service like this that you are after, please support local bike shops!
Do it yourself!  (or at least understand more about your bike before you bring it in).
If you have the time available – and the inclination – working on your bike yourself is very rewarding. Even if it's just the periodic changing of your chain, or occasionally making your own adjustments to  your brakes or gearing, any work you do yourself will help you learn more about your bicycle. There are many great books you can buy that provide a good reference for your own repairs. And, of course there are also YouTube videos.
If you are thinking about doing your own tune-up, or if you just want to understand how your bike works a little better, check out Nick Legan's piece from this month's Adventure Cycling Magazine  "The Unbearable Lightness of Cleaning". It's a thoughtful article that will help you identify which parts of your bike may need the most work.
https://gothambiketours.com/wp-content/uploads/Banner-Logo-300x60.png
0
0
Laura Willis
https://gothambiketours.com/wp-content/uploads/Banner-Logo-300x60.png
Laura Willis
2019-05-07 14:23:01
2019-05-07 14:23:01
Advice for tuning up your bike