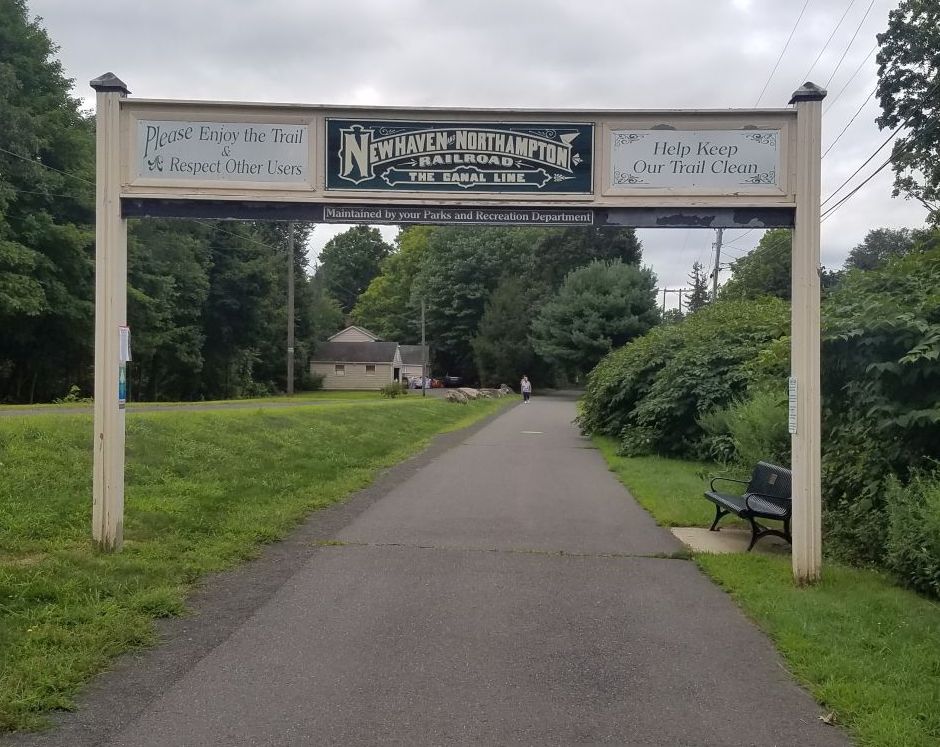 Most people have no idea, but Connecticut is one of the few states that you can cross end-to-end on a car-free bike path: the he Farmington Canal Heritage Trail
But it gets even better: you can also go an extensive distance in Massachusetts as well, on the same bike path for an even bigger ride.
It still gets better:  the bike path connects to well-marked on-road bike route networks in Massachusetts once the trail ends.
It STILL gets better….you can leverage a new commuter rail system to do your epic ride one way.
So what's the deal?  Why don't you know about this trail yet?  Well, I am going to tell you. This trail is awesome! It is so well put together, you'll think you are in Germany, riding down a scenic radweg, designed by engineers and landscape architects who really care about bikes. Except the Dunkin' Donuts you just passed will remind you that those dedicated professionals who put this trail together are from Connecticut…and wow – what a great trail.
The main issue with the elusiveness of this trail probably has something to do with the fact that it changes names as it goes through different areas.  And, of course, you have to go to different websites to get the maps for the differently named trail sections. So that makes it trickier to put your ride together. But make no mistake: you can ride from Amherst, MA to New Haven, CT with only a small amount of on-road riding. And those on-road sections are shrinking as gaps in the trail continue to get bridged with new trail segments. And where the gaps exist, there's good signage to keep you moving. And sometimes there's trail alongside the road where you can ride without dealing with cars. Amazing!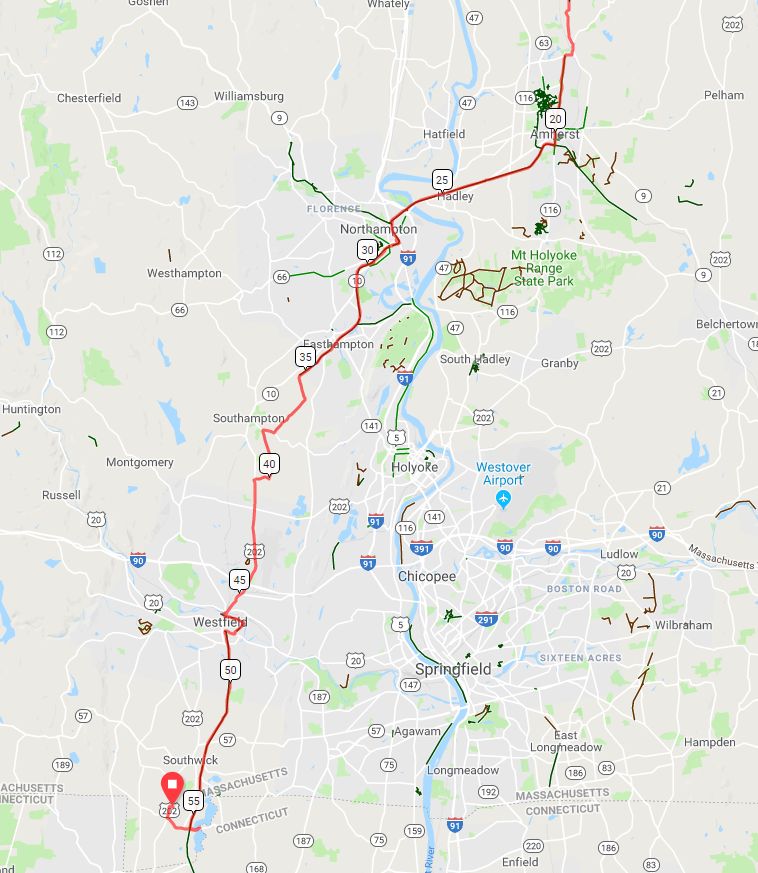 Massachusetts Section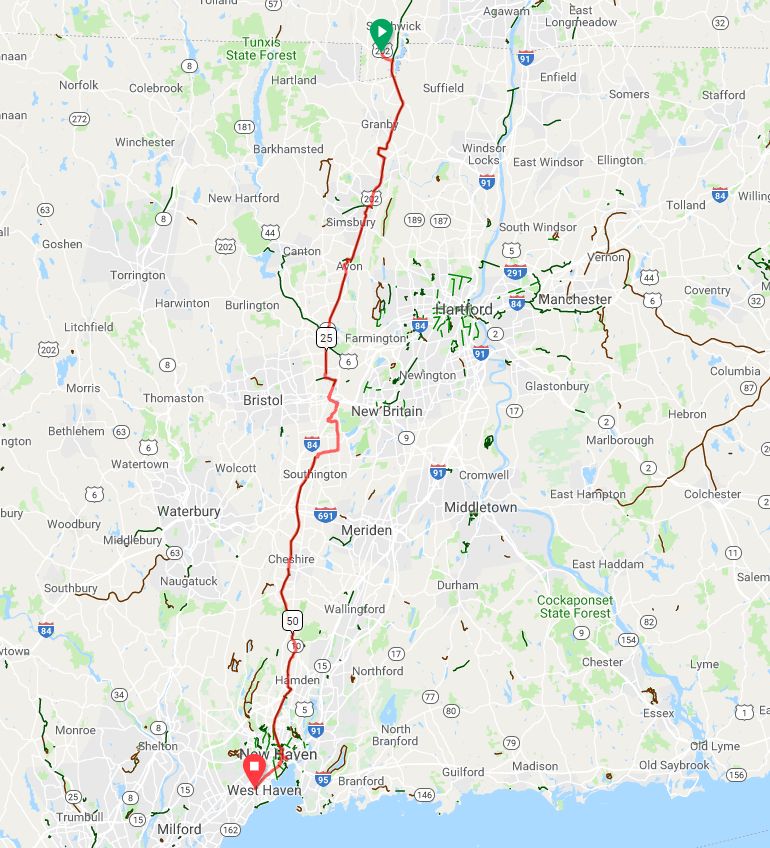 Connecticut Section
Although this trail is called a "canal heritage trail" since it follows the route of a canal that once went from New Haven to Northampton, the canal was mostly obliterated by the railroads that came in later. So the trail is basically a rail-trail, laid down where the tracks used to go. It is all paved, and you go through town after town after town….so plenty of services, places to eat, places to stay, etc. And don't forget that the trail closely parallels the new CT Rail commuter rail service in between New Haven and Springfield, which accommodates bikes.  You can also bring your bike aboard the Amtrak Vermonter if you want to travel further north on the train to Northampton or beyond.
Here's a breakdown of the the Farmington Canal Heritage Trail (and the segments with other names) from North to South:
Norwottuck Rail Trail – https://www.mass.gov/locations/norwottuck-rail-trail   While not directly a part of the Farmington Canal system, this rail trail hooks directly into the trail Northampton. It provides a great extension of the trail between Amherst and downtown Northampton where it hooks directly into….
Manhan Rail Trail – https://manhanrailtrail.org/  This is the name of the trail once you leave Northampton and get into East Hampton. (Within Northhampton it's just called part of the city's bike path system).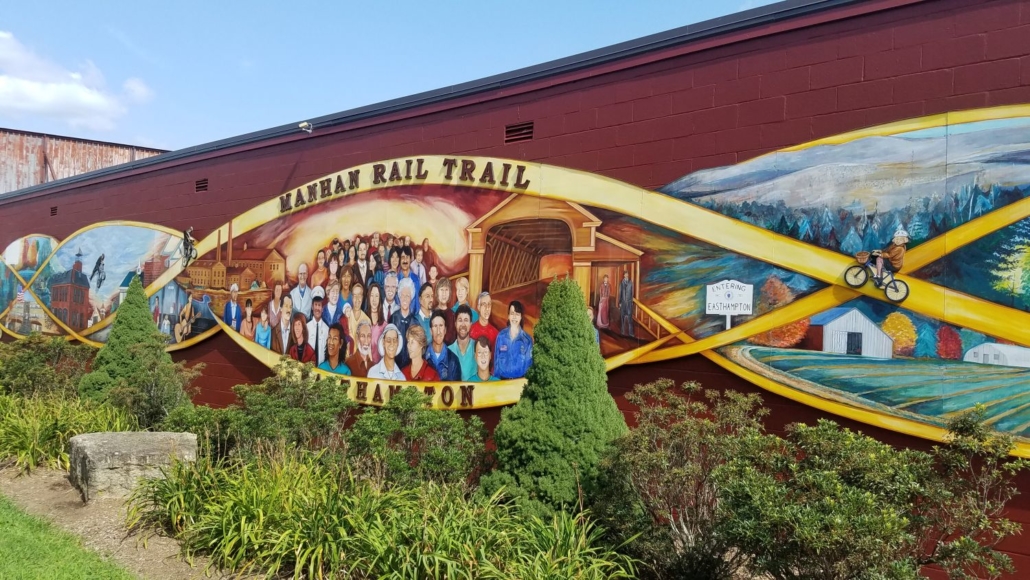 On road riding – When you get to the town of Southampton, the Manhan Rail Trail ends and you will have to take local streets.  Unfortunately, the signage is not good in this one area, so you will have to plot out a route that generally follows Route 10.  It's about 10 miles to the City of Westfield, where the trail picks up again.  But after that, it's all smooth sailing on bike paths for almost the rest of the time.
Columbia Greenway Rail Trail – https://www.columbiagreenway.org/  And just like magic, tucked behind a Stop & Shop is the Columbia Greenway Rail Trail which takes you from Westfield through beautiful agricultural areas, including tobacco fields! (Who knew they grew tobacco in Massachusetts?)  This trail takes you all the way to Southwick where it becomes….
Southwick Rail Trail – http://southwickrailtrail.org/  Another name for the same great trail. This time in Southwick, Massachusetts. Southwick is the last town in Massachusetts. After this you enter Connecticut and start riding on….
The Farmington Canal Heritage Trail – http://fchtrail.org/ Thankfully, the rest of the trail is under the same name with the same maps and website. This is where the trail really begins to shine as you pass through many towns where the trail right-of-way had been interrupted by development, only to be put back together by trail designers who routed the trail through office parks and along trails adjacent to streets.  You'll pass through town after town on this well-maintained trail, with plenty of businesses to stop at.  The trail runs generally uninterrupted until you reach Plainville, but at that point the trail is also marked as….
The East Coast Greenway – https://www.greenway.org/ Just north of Plainville, the Farmington Canal Heritage Trail is co-branded as the East Coast Greenway, which is a larger trail system spanning between Florida and Maine.  So when the trail gets interrupted in Plainville, you just follow the East Coast Greeenway markers to keep going on your route.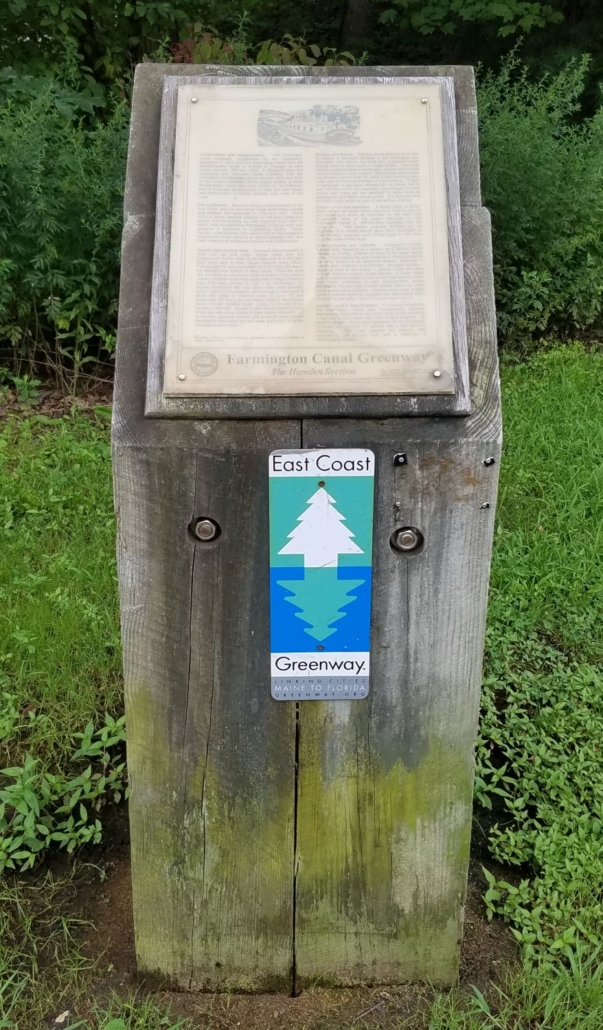 Eventually, you'll reach the next segment of the Farmington Canal Heritage Trail and you'll keep riding.  As you ride south, you'll notice that the trail gets very wide, which is great since there are a lot of people on it. The trail continues on, with only one small interruption until you get to New Haven where the trail ends at the Yale Campus.  Take your time to enjoy the New Haven Green, or just pedal the short distance to the train station and be on your way. You can get trains to almost anywhere from New Haven's beautiful Union Station.
https://gothambiketours.com/wp-content/uploads/Banner-Logo-300x60.png
0
0
Laura Willis
https://gothambiketours.com/wp-content/uploads/Banner-Logo-300x60.png
Laura Willis
2018-08-28 23:33:08
2020-06-15 17:01:31
The Farmington Canal Heritage Trail – A Car-Free Ride Across Connecticut (and part of Massachusetts)