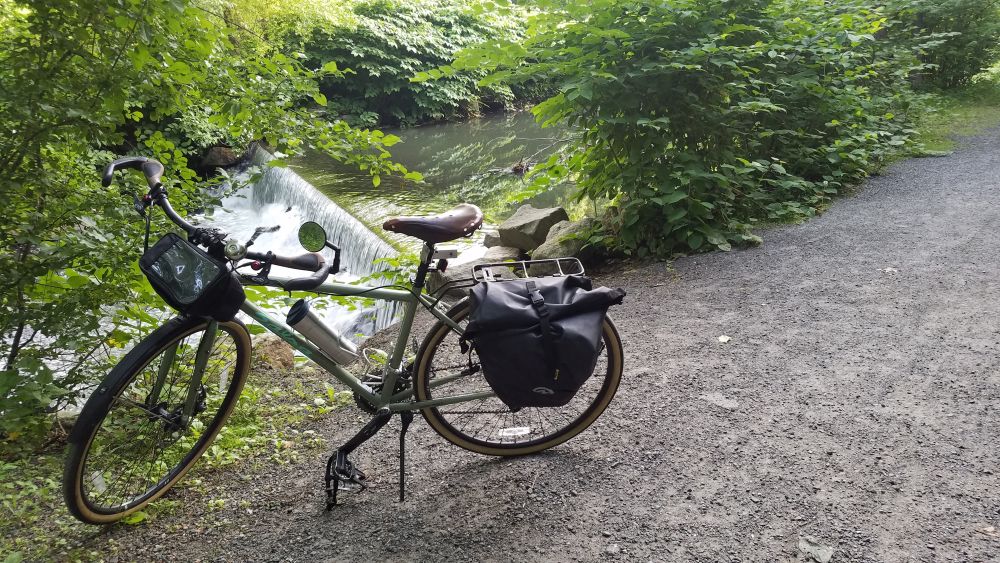 The Bronx River Valley has been a corridor for transportation and industry throughout New York's history. As the only fresh-water river in NYC it played an important role in industry, with many mills set up along its banks, the remnants of which can be seen in the many "waterfalls" you see along the river flowing over dams that date back to the 19th century. The Bronx River Valley has also been an important transportation corridor dating back to the 1840's when the New York and Harlem Railroad was constructed (now the the Metro-North Harlem Line) and the construction of the Bronx River Parkway in 1907 as the first parkway to be constructed in the United States.
One of the innovations of parkway construction at the dawn of the automobile era was the preservation of lands along each side of the roadway as dedicated parkland.  This parkland has allowed for the development of one of the region's best bicycle paths.  While not fully complete, you can ride 25 miles between the source of the Bronx River in Valhalla to and the mouth of the river at Claisson Point in the Bronx by using existing trail segments and roads that fill in the gaps.  Eventually, both the City of New York, with the help of the Bronx River Alliance, and Westchester County are committed to constructing a trailway along the river's entire length.  But for now, you can ride the whole river mostly on bike paths, so long as you are OK with detours onto nearby streets.
One of the nicest attributes about the Bronx River Greenway is that it connects many downtown areas with restaurants, services, train stations and parking. So you are never far from services and this is an ideal ride to do one-way and take the train back, since the bike path follows the Metro-North Harlem Line closely.  So whether you want to ride a little, or a lot, the Bronx River Greenway is a great choice for a day out on a bike that is close to home.  During spring and autumn you can also combine your ride with Bicycle Sundays which involve the closure of the Bronx River Parkway for bikes and pedestrians between Yonkers and White Plains.  
Let's take a look at the route from south to north.  For an overview of the route in both the Bronx and Westchester, click here. Use this map to guide you as you read, since your ride will take you through many different park areas and then on streets in between. But this map is not a recommended route. Please consult the various other maps we call your attention to later in this article. To start with, you may also want to check out the maps and cue sheets on this webpage. 
Classon Point is at the south end. There is a dock here that gets regular NYC Ferry service which is a great way to arrive with your bike if you are coming from Brooklyn, Queens or Manhattan. Parking here is also relatively easy to find. From here you will ride through a series of parks with a little on-street riding in between each. Head directly out on a bike path which takes you through Soundview Park along the tidal flats of the mouth of the Bronx River. Then with a little knowledge of local streets from a map, you can get across the Bruckner Expressway to Concrete Plant Park. From here the route is well put together, with signage and a protected bike lane along the decommissioned Sheridan Expressway (now Sheridan Boulevard) which leads to Starlight Park.
North of here, the park land is interrupted as you go through the bustling West Farms neighborhood. This is a major transit hub for subways and buses, so it's a good starting point if you want to take the subway to get to the ride. You can also try your luck with parking here since there is good highway access at this particular spot. Again a map is helpful getting you through the neighborhood streets.  Watch out for cars!
The good news is that it's only a half mile of on-street riding and then you are back on a nice bike path starting at 180th Street. At this point you are going to be on a path for a while as you go through Bronx Park, so relax and enjoy. If you are interested in an odd piece of New York history, take a very small detour to the East 180th Street subway station, which used to be a train terminal for the now-defunct New York, Boston and Westchester Railroad. Both the 2 and 5 trains stop here and the 5 continues on along the old NY,B &W route to Dyre Avenue.
Once you are on this bike path, everything is straightforward and well marked almost until you reach the northern border of NYC. There are also plenty of restrooms and water fountains (usually found at playgrounds) along the way. The only challenging section is where you need to cross Pelham Parkway. This is a busy street that is difficult to cross.  So take your time and use the pedestrian signals.  Or check out the neighborhood and get a snack or lunch while you are there. 
After about 4.3 miles of riding on this path, you will reach Woodlawn Heights, which is where NYC ends and Westchester County begins. The bike path here continues north of 233 Street, but it is a dead-end bike path that goes to Muskrat Cove, a quiet little spot along the Bronx River in between the parkway and the railroad. So if you want to check it out, you'll have to go back to 233 Street again. Be aware of homeless encampments if you go on this bike path.  From 233 Street you are looking at 4 miles of on-road riding to get to the next trail segment. So you may want to take a break here and grab lunch while you figure out the best route for you to ride. The Woodlawn Heights neighborhood is famous for Irish restaurants. Or you can head up Bronx Boulevard and get great jerk chicken and BBQ from the Cookmaster who sets up shop most days in the summer on the sidewalk in front of a self-storage facility.
There is a lot of debate about the best on-road route to connect the Bronx and Westchester segments of this trail. On our map we use a jumble of streets in southeast Yonkers that takes you to Kimball Avenue, which is a relatively wide 2-lane road. It's a mystery why the City of Yonkers doesn't stripe this road with bike lanes. If you go this way, you will need to be careful riding past Cross County Shopping Center because there are a lot of cars here.  But north of the mall you'll ride through Sarah Lawrence College, which is a nice change. Right after Sarah Lawrence the bike path starts up again. Another route is offered on these cue sheets. You should decide the best route for you. 
This 4 mile gap will probably be the least pleasant part of your ride, since there are no signs to guide you and you will be on streets with cars. Rest assured, Westchester County will eventually construct a bike path for this segment, but it has been hard to engineer using the available land.  If you don't want to ride this part, you can also ride Metro-North railroad with your bike between the Woodlawn Station and the Bronxville station.  Trains run every 30 minutes on weekends and you can bring your bike on board for this 8 minute ride. 
Once you are in Bronxville, the final 11 miles of your ride are going to be pretty nice as you ride a bike path through the Bronx River Reservation. While there are few directional signs here, the bike path is (mostly) intuitive. The path also closely follows the Metro-North Harlem Line with direct access to several train stations which is perfect for getting to the trail and then back home again.  There is also free parking at many of these stations on weekends if you want to drive to the trail. Westchester County Parks has also produced a nice map of this trail showing access points and parking.   
Once you are north of Scarsdale Road in Yonkers, the bike path parallels the section of the Bronx River Parkway that is closed on Sundays in the spring and fall for "Bicycle Sundays". So if you are doing your ride on a  Sunday, you can choose to ride on the bike path or on the parkway itself. Either way, you'll go directly through the center of a number of downtowns offering places to get lunch. Restrooms, however, are harder to find. Once you are north of Scarsdale Road, the path is continuous until the end. 
When you get to White Plains the bike path goes under two roadway bridges. Ring your bell if you have one as you approach the bridges because there are sometimes homeless people under them and you'll want to give them a heads up. They won't bother you. White Plains is a busy place, but if you are tempted to get off the trail and explore, be aware that the streets in White Plains are very inhospitable to bikes and, unless you like brutalist architecture, there aren't a lot of places worth checking out unless you ride several blocks into the core of downtown. There is, however, a hot dog stand right next to the trail that is popular with local cyclists. 
After the bridges and the hot dog stand, the bike path goes through a large parking lot associated with the Westchester County Center. They have restrooms here, but you'll have to cross the parkway using a pedestrian signal to get to them. You can also park here, but you have to pay a fee. 
The final 3 miles of the pathway between White Plains and Kensico Dam Plaza is a relaxing finish to the ride. There is plenty to explore at Kensico Dam, including a hike to the top of the dam. On weekends there are also a number of cultural festivals that are held here. From the dam you are a short bike ride to downtown Valhalla which has several nice restaurants which are perfect for the end of your ride.  There is also a Metro-North station here if you want to get back to the city. Parking at Kensico Dam Plaza is free, so you could also start here and ride this bike path in the reverse order if you wanted to. 
https://gothambiketours.com/wp-content/uploads/Banner-Logo-300x60.png
0
0
Laura Willis
https://gothambiketours.com/wp-content/uploads/Banner-Logo-300x60.png
Laura Willis
2020-04-24 07:38:08
2022-02-04 12:59:14
Bronx River Greenway