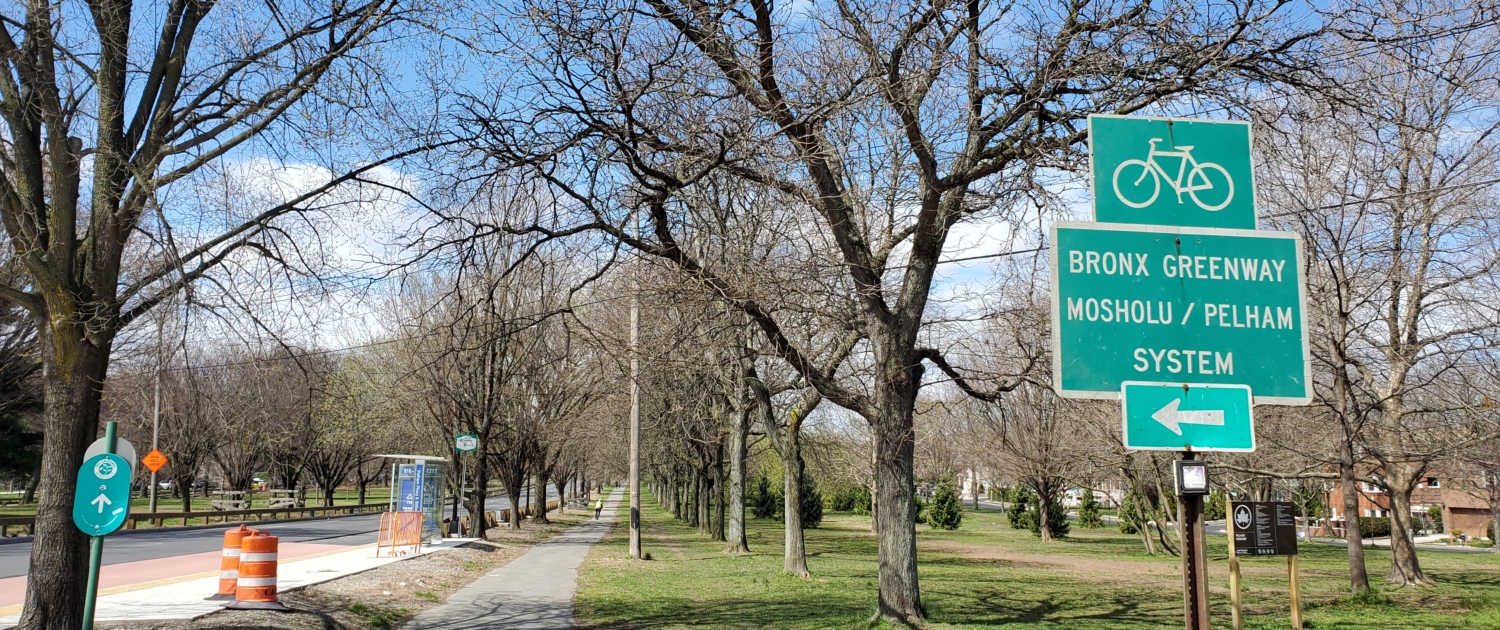 One of the best bicycle path networks in the New York Metro Region is located in the Bronx. While many counties and cities in our region have great bicycle paths, a common issue among many of them is connectivity. Perhaps they run a few miles and stop. Or perhaps one trail is unable to connect to another thanks to a missing piece. The Bronx is fortunate in this regard in that a number of bike paths connect together into a system that stretches almost entirely across the borough.  As shown on the excerpt of the NYC Bike Map below, the Mosholu-Pelham Greenway System is the spine of a large network of trails that connects cyclists to attractions such as Orchard Beach, City Island, the Bronx Zoo, the New York Botanical Gardens as well as many local neighborhoods, great restaurants, employment sites, universities, swimming pools, golf courses (including mini-golf courses) and more.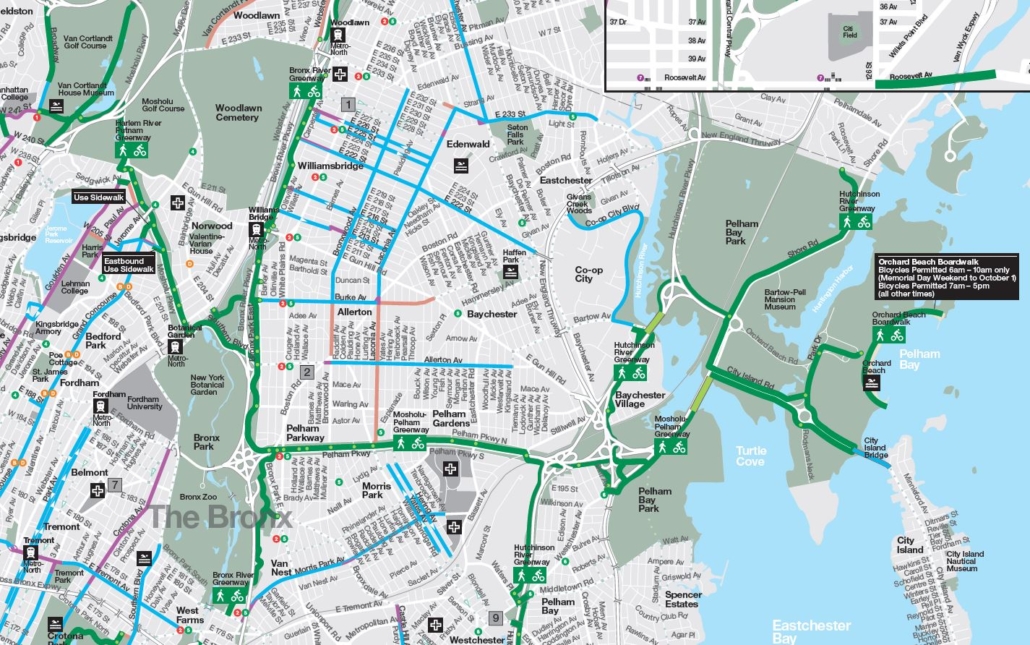 This trail of networks is the showpiece of the Tour de Bronx bike tour that is held every October. But it's also a system that can be easily used by residents and visitors alike, with many access points, parking areas and transit connections. So it's perfect place to go for a day-long outing. It also connects to other regional trail systems such as the North-South County Trailway in Westchester and the multi-state East Coast Greenway.
While this trail system generally runs east-west, there are a number of connections that will also take you north or south. The west end of this system is Van Cortlandt Park, which is home to many sports fields, a pool, a golf course, and the historic Van Cortlandt House Museum. It is in Van Cortlandt Park that this system connects to Westchester's South County Trailway, which will take you more than 50 miles north up to Brewster in Putnam County. Trailside parking is available at the Van Cortlandt Golf Course and you can also easily get to the park by subway. Leaving Van Cortlandt Park, the bike path system goes along Mosholu Parkway where it connects with the New York Botanical Gardens.  There is bike parking at the garden entrance here.
Moving east, the Mosholu/Pelham system merges into the Bronx River Greenway, a longer north-south route that generally follows the length of the Bronx River between Kensico Dam in Valhalla to Soundview where the Bronx River empties into the East River. It is here that you can access the Bronx Zoo or a number of Metro-North train stations. There is also on-street parking on most of the side streets here. 
At Pelham Parkway, the Mosholu/Pelham system breaks away from the Bronx River and heads east again as a bike path within the large median of Pelham Parkway. A quick side trip to the south brings you to the Morris Park neighborhood, with many great Italian restaurants. If you just want to stop for a quick lunch there are many options including the famous Emilio's pizza which has a one-of-a-kind recipe for chicken vodka sauce slices. You could also park within this neighborhood or take the subway here with your bike. 
As the bike network crosses highway interchanges for both the Hutchinson River Parkway and I-95, you will need to cross many exit and entrance ramps here, so be careful. Most of these are well marked with signs and crosswalks, but always watch out for speeding cars. You can also gain access to the Hutchinson River Greenway here, which is another great north-south route that follows the Hutchinson River Parkway. 
Once you cross I-95 you are in Pelham Bay Park, which is New York City's largest park. This park includes Orchard Beach, Split Rock Golf Course, the Bartow-Pell Mansion Historic Site, Turtle Cove batting cages and mini-golf, and a stable for horseback riding. All of these attractions are right on the bike path which takes you as far east as City Island or north to the Village of Pelham Manor, where the trail dumps you out on a residential street that continues as part of the East Coast Greenway. City Island also features a number of great restaurants and it is a very interesting community to visit. Riding your bike to City Island also lets you not have to think about traffic or parking. Isn't that great?
https://gothambiketours.com/wp-content/uploads/Banner-Logo-300x60.png
0
0
Laura Willis
https://gothambiketours.com/wp-content/uploads/Banner-Logo-300x60.png
Laura Willis
2020-04-14 20:52:03
2020-04-14 21:03:03
The Bronx Greenway Mosholu / Pelham System