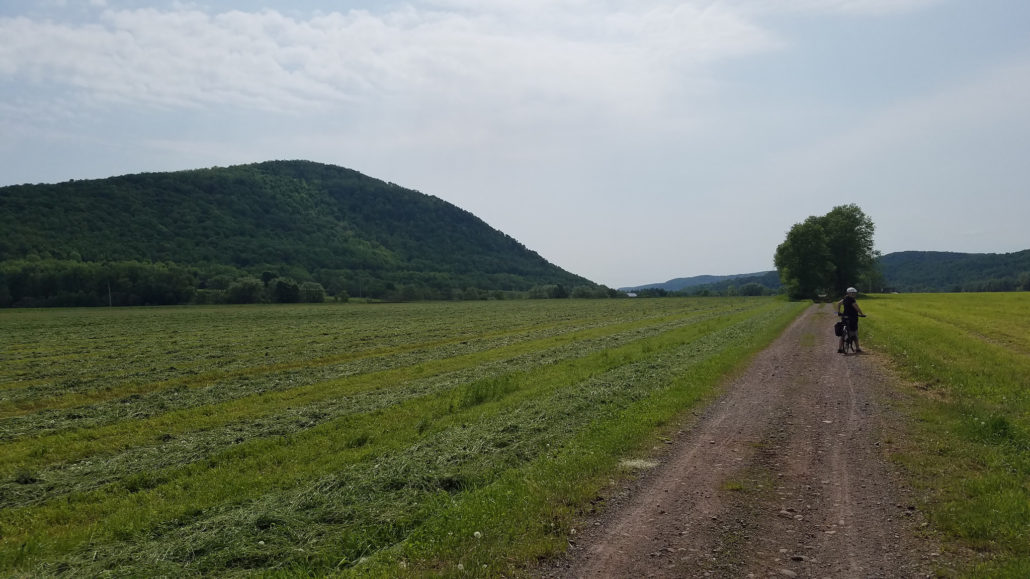 The Catskill Scenic Trial is one of the most beautiful rail-trail bike paths anywhere near the New York Metropolitan Area. Framed by both mountains and farms, this 26-mile, car-free ride is a perfect outing for a day or a weekend. But the beauty of this trail is partially thanks to it's out-of-the-way location. Trail conditions are also somewhat rugged if you are used to riding on paved surfaces. But we believe this ride is so nice that it's worth the effort. Keep reading to learn more. This is a ride you can do on your own. Or you can inquire about hiring Gotham Bicycle Tours to take care of the details for you. Check out our website for private tours at www.biketourconcierge.com
Getting to the trail.  The Catskill Scenic Trail is located in the northwestern portion of the Catskills, mostly in Delaware County, but also with a portion in Schoharie County. It's about a 3 or 4 hour drive to get to the trail from New York City, depending on the route you take and the traffic.  The trail is not served by public transportation, so you must drive to the trail or find a ride.  But once you are there, you'll quickly find out that it was worth the effort to get there.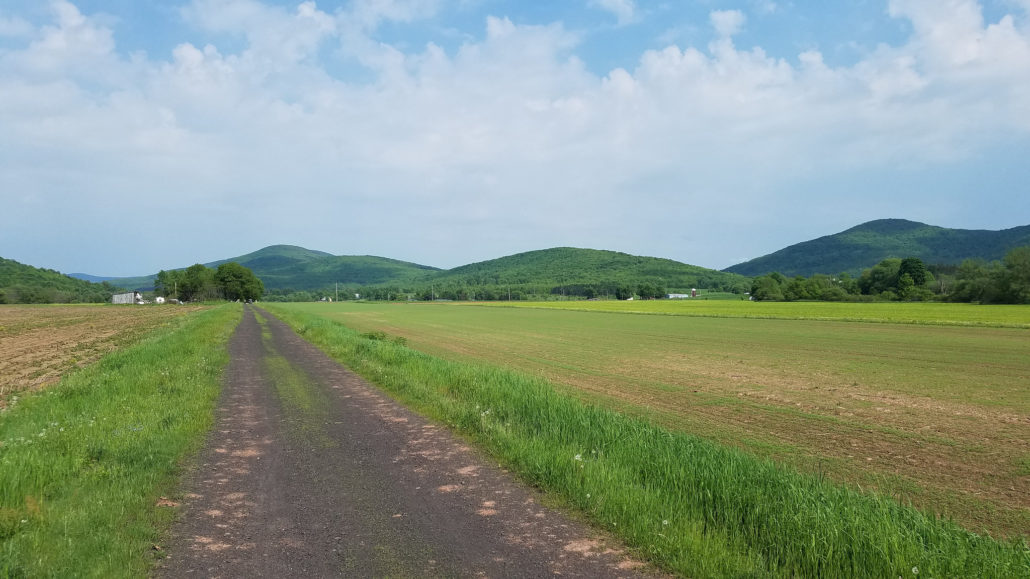 A good place to start for planning your ride is to think about where you will park. The Catskill Scenic Trail website has a great map of the trail that shows the communities that the trail passes through, as well as where to park.  Most of the time, the parking is provided in dirt lots near where the trail crosses roads.  Sometimes these ares are more or less side-of-the-road pullover areas. Wherever you park, keep in mind that you will most likely need to ride out on the trail, and then turn around to come back, to get back to your car. The only way to just ride this tour one-way is to do a car shuttle with 2 cars, or to hire a bike tour company like Gotham Bicycle Tours to set the ride up for you.
Some of the communities you will pass have more services than others. In general, the communities with the most services are at the southeast end of the trail: Roxbury and Grand Gorge. These two communities have lodging options as well as a small number of restaurants owing to their proximity to Plattekill Mountain ski resort. As you move west, the communities get smaller. Stamford (the halfway point on the trail) has a few places to eat. Moving west, Hobart, South Kortright and Bloomville have fewer restaurants and services, although they still each have some.  Please note that because these communities are very small, some businesses may not be open every day.  So call ahead before you start riding.  You don't want to arrive at a restaurant hungry, only to find that it is closed that day!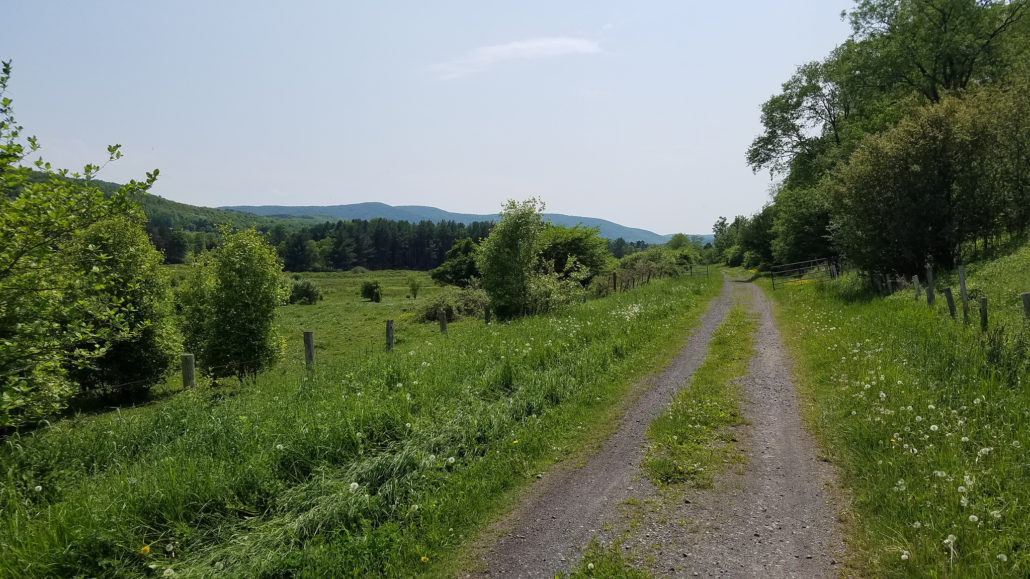 The riding experience. This trail used to be part of the Delaware and Ulster Railroad, which once chugged into the Catskill Mountains between Kingston and Oneonta. The last train ran in 1976. Since that time the 26 miles between Roxbury and Bloomville has been transformed into a bike path.  And the section between Roxbury and Arkville now operates as a scenic railroad. Most of the trail still has the old mile markers from the railroad's days of operation, with distances shown to Kingston. The bike path generally runs between Mile-Marker 60 and Mile-Marker 86.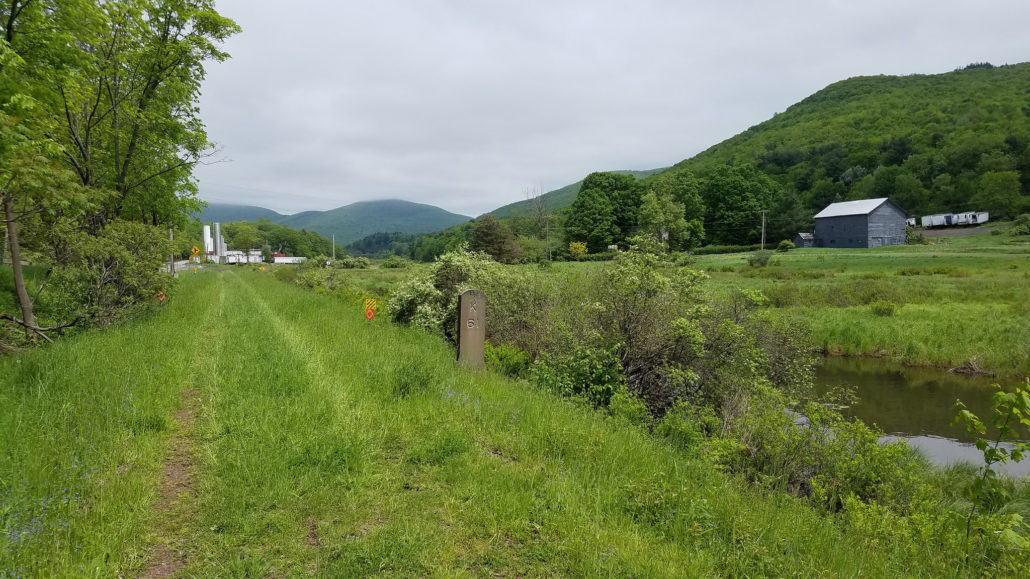 The experience this trail offers is rugged and remote. There are some sections where you are basically riding through tall grass, so you will want to bring bug spray to spray your legs to protect against ticks and mosquitoes. Fortunately, the more rugged sections of trail are the sections closest to the services in case anything goes awry or you want to take a break. The trail between Roxbury and Grand Gorge is tough: mostly riding through grass and dirt that gets very muddy after a rain.  Depending on the exact conditions, riding here can be difficult, depending on the type of bike you are using.  As you make your way west, the trail becomes less bumpy and transitions away from grass to stone-dust and gravel. You can expect more consistent trail surfaces west of Stamford, which is probably the easiest portion of the trail to ride.  But no matter which trail segment you pick to ride, you should definitely consider using either a hybrid or mountain bike for the trail conditions you are likely to encounter.
Just about all portions of this ride are equally scenic. You can take a look at a complete photo album at this link.  The pictures are taken from southeast to northwest: from Roxbury to Bloomville.
https://gothambiketours.com/wp-content/uploads/gotham-bicycle-tours-logo2.png
0
0
Laura Willis
https://gothambiketours.com/wp-content/uploads/gotham-bicycle-tours-logo2.png
Laura Willis
2018-06-04 14:43:29
2018-06-04 14:43:29
Riding the Catskill Scenic Trail