The Saratoga Series
Up to four great bike rides based out of Saratoga Springs. Memorial Day Weekend – May 26-29, 2023
Saratoga Springs has it all – great biking, great restaurants, historic sites and attractions. Our Memorial Day weekend package lets you experience this historic city and its surrounding countryside on a series of beautiful and scenic bicycle rides, all starting from the same hotel.
Memorial Day Weekend – May 26-29, 2023
OPTIONS! Ride the full series of four rides, or join us for just the days that work for you and the cost is prorated.
Click here to download the Saratoga Series 2023 pricing and itinerary
The most flexible of itineraries
Our Saratoga Series is designed with maximum flexibility in mind and includes up to three nights at the Hampton Inn & Suites Saratoga Springs Downtown, one of the most bike-friendly hotels in New York State. All rides begin from the hotel which is in the heart of downtown surrounded by great restaurants and a wealth of local attractions. This is a perfect weekend getaway for cyclists of all abilities. It also works perfectly if you want to come with a non-cycling companion or spouse, since they can enjoy so much of what Saratoga Springs has to offer while you ride. Click here for more information about local attractions. 
While breakfast, lunch and dinner are included on each day of the series, we also understand that not everyone is into big group meals, particularly with Covid-related concerns in mind.  So we also offer opt-out options for each meal that can be credited back to your tour cost. This lets you do your tour, your way. 
A great ride for all abilities
Most of the riding will be on bike paths and quiet back roads, including segments of the Empire State Trail, other regional bike paths and signed, on-street bicycle routes. You'll be given GPS or paper maps to navigate the route at your own pace. Each day a guide will also be riding with whoever wants to go in a group, and a support vehicle is always nearby, carrying luggage and belongings, and setting up rest stops. Everyone feels safe and supported and nobody is left behind.  Most of the rides are also one-way with a shuttle at the beginning or end to let you experience more on your ride. 
See the itinerary below for brief descriptions of each day.  Full information can be downloaded at this link.
Friday May 26 - Arrival and Tour of the Springs
7 Miles, relatively flat. Bike paths and city streets. All paved surfaces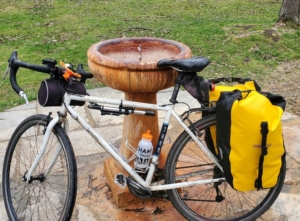 Check in at the hotel is anytime after 3 p.m. For those who arrive early enough, we will be offering a fun in-city tour of Saratoga Springs where we will bike past local historic sites and head over to Saratoga Spa State Park. Along the way (and especially in Saratoga Spa State Park) you will have the opportunity to taste the water from the various springs that made this city famous. Some of the water tastes good…others not so much.  You be the judge and pick your favorite as we bike around and get to know each other.  A group meal follows at a local restaurant for those who are interested.
Saturday May 27 - Saratoga Battlefield, Horses and Wine
Sunday May 28 - Lake George
Monday May 29 - Ride to Albany